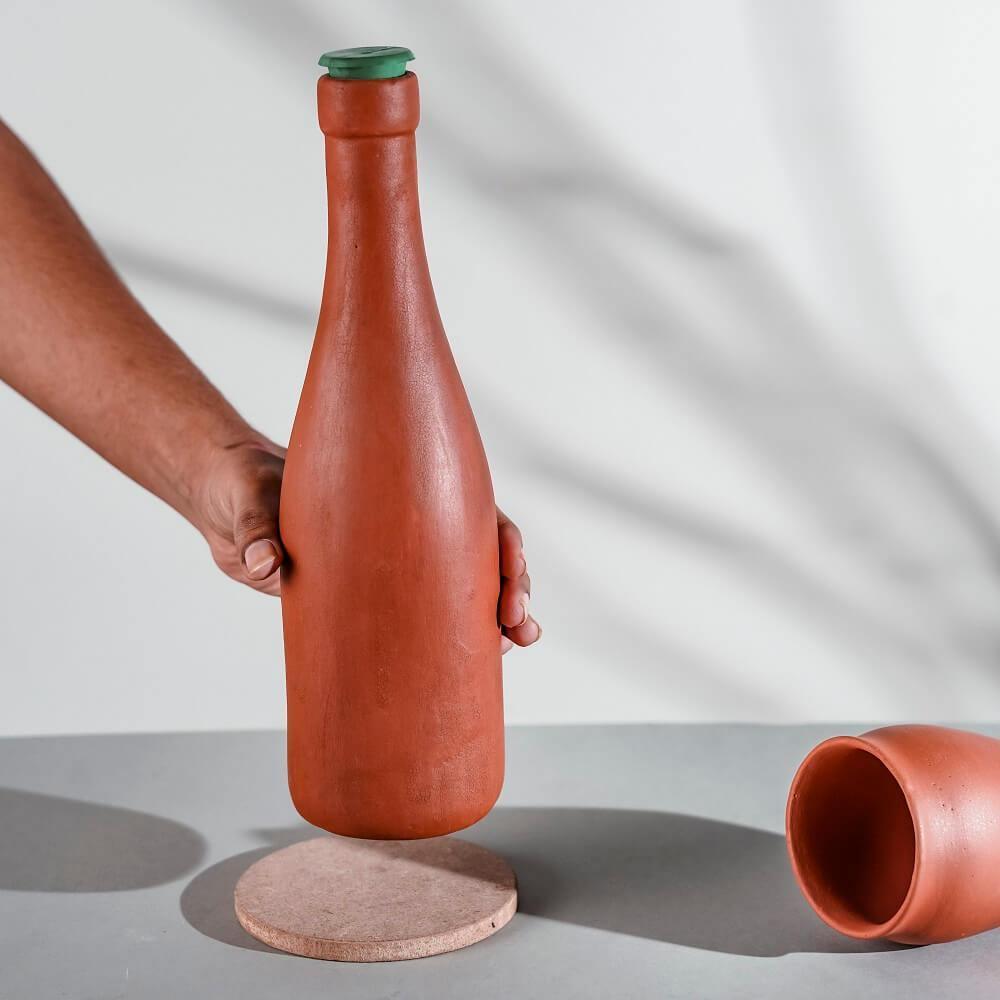 Terracotta Water Bottle Green Cork (600ml)
Sale price
Offer Price: Rs. 499
Regular price
MRP: Rs. 1,000
Unit price
per
Gives earthy flavour to water | For daily use
Terracotta Water Bottle Green Cork (600ml)
Say Good bye to nasty plastic water bottles! Clay Water Bottle is made from Natural Red Clay. The Risk of Catching Cold is Less in Clay bottles unlike Refrigerated Water.

✅ Certified Lead Free
😋 Adds Earthy Flavor
➕ Regulates pH
💪 Adds Nutrients to Water
Storing drinking water | Ideal for daily use
Sale price
Offer Price: Rs. 499
Regular price
MRP: Rs. 1,000
Unit price
per
Claim Your Offer
+ Show More Offers
Free COD Available
Free Shipping Above ₹1198
Secured Payments
Easy 7-day Return
Use & Care for Best Performance
Promises We Live By
1. PROMISE OF HEALTH
Because your health is our No. 1 priority, we use nothing but 100% pure, superior-grade materials, free from PFOA, lead, and cadmium in our kitchenware.
2. PROMISE OF QUALITY
We fuss on the details. Be it performance or aesthetics, our kitchenware embodies quality that is built to last.
3. PROMISE OF EASE
All products are thoughtfully
designed to make everyday cooking easier, faster and more enjoyable.
India's No.1 Healthy Cookware Brand
100% Healthy Cookware
No Chemical Coating
100% Toxin Free
ISO 9001 Certified
Safest For Children
Long Lasting
Loved By Chefs
Recommended By Doctors
Trusted By 5Lac+
Frequently Asked Questions
100% NATURAL: Made of pure red clay. No harmful chemical coating. 100% toxin-free.
CERTIFIED LEAD & CADMIUM FREE: Premium quality, food-grade clay is used that is certified lead and cadmium free.
FOOD SAFE: 100% safe for storing drinking water & ideal for daily use.
GIVES EARTHY FLAVOUR: Clay adds distinct taste to food/water. So you get to enjoy a nice, earthy flavour.
HEALTH BENEFITS: Clay is alkaline in nature. Thus, regulates pH of food. Prevents acidity or any gastric issues. Also, the risk of catching cold is less in clay bottles unlike refrigerated water.

Use any regular or coconut fibre scrub to clean the inner surface. Use only mild soap if needed. (Metal scrub is a strict NO)
Store it in an open & ventilated space after drying it.
Soak it in hot water to remove tough stains.
You can add baking soda to the hot water to remove any smell residues.

Before First-Time Use:
Dip the clay utensil in a bucket or tub full of water for 8-12 hours or overnight.
The water absorbed by the clay tends to make it stronger & helps in reducing the air bubbles inside the vessel.
Keep the utensil in sunlight to dry them completely.
Before Cooking - Seasoning of Cookware:
Pour 3-4 tablespoons of oil & grease the entire inner surface of cookware.
Leave it for some time. Repeat initially 2-3 times.

How to check if clay is good?
The basic checks can be the source of clay - colour of the product and the bell sound it will make while knocking it with knuckles. Do ensure that clay products are heavy metal free. All Indus Valley clay products are free of Lead and Cadmium, making it safe to use.
Can clay utensils be refrigerated?
Clay utensils can be kept in the refrigerator. But they should be allowed to come to room temperature before & after refrigeration. Sudden changes in temperature might cause cracks in the utensil.
Is it induction safe?
No, it is not. Induction heats a cooking vessel by electrical induction. So, clay cookware won't work on induction.
Is it microwave safe?
Yes, clay can be used in OTG and microwave oven from the start. It should not be used in a preheated oven or for baking purposes.
Do clay cookware need seasoning?
Yes, unglazed clay utensils are porous in nature and to ensure the use of product in stove top or microwave it needs to be seasoned 2 to 3 times before using for the first time alone.

MAKE THE RIGHT CHOICE
The Indus Valley Clay Drinkware

Plastic Drinkware

100% Natural

Free from chemicals & artificial coatings.

Certified Lead & Cadmium Free

Made from superior, food-grade material.

Enhances Taste

It gives a nice, earthy flavour to water/food.

Adds Nutrients

Clay products release nutrients in food/water that are good for health.

Regulates pH

Clay products prevent gastric problems & acidity.