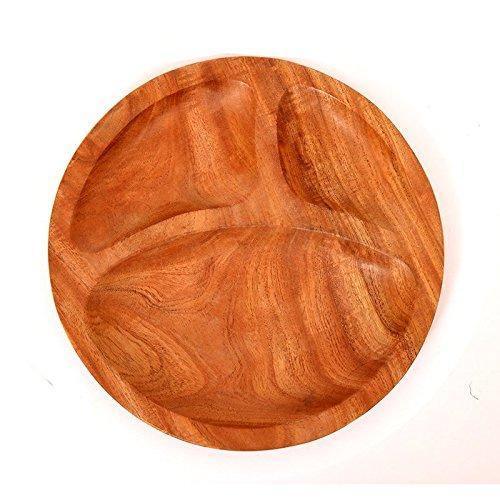 Neem Wood Kids Plate: Dinner Plate (23 cm)
Sale price
Offer Price: Rs. 950
Regular price
MRP:
Unit price
per
Totally food-safe | No polish | Antibacterial
Neem Wood Kids Plate: Dinner Plate (23 cm)
Neem Wood Kids Plate



Neem wood baby plate is SUITABLE FOR KIDS of age 1-5 years of age, Smooth edges.



FOOD SAFE: Kids tend to bite the cutlery, Neem wood plate is natural and harmless to the baby.



DIMENSIONS: Diameter: 23cm, Height-2 cm Weight - 450 grams.



LONG LIFE: Single solid piece of seasoned wood. Natural wood with no coating.



EASY TO CLEAN AND MAINTAIN - Wash with warm water and soap and air dry. Periodically rub with mineral oil to prolong life.



Sale price
Offer Price: Rs. 950
Regular price
MRP:
Unit price
per
Claim Your Offer
+ Show More Offers
Free COD Available
Free Shipping Above ₹1198
Secured Payments
Easy 7-day Return
Use & Care for Best Performance
Promises We Live By
1. PROMISE OF HEALTH
Because your health is our No. 1 priority, we use nothing but 100% pure, superior-grade materials, free from PFOA, lead, and cadmium in our kitchenware.
2. PROMISE OF QUALITY
We fuss on the details. Be it performance or aesthetics, our kitchenware embodies quality that is built to last.
3. PROMISE OF EASE
All products are thoughtfully
designed to make everyday cooking easier, faster and more enjoyable.
India's No.1 Healthy Cookware Brand
100% Healthy Cookware
No Chemical Coating
100% Toxin Free
ISO 9001 Certified
Safest For Children
Long Lasting
Loved By Chefs
Recommended By Doctors
Trusted By 5Lac+
Frequently Asked Questions
100% NATURAL: Entirely made from natural wood. No plastic or chemical coating.
TRULY HEALTHY: 100% toxin-free & food-safe. No dyes or polish used.
ANTI-MICROBIAL PROPERTIES: Wooden kitchenware is naturally resistant to bacteria. So it is germ-free and healthier than plastic kitchenware.
EASY TO USE: It has a non-slippery surface. Gives you a comfortable and firm grip.
STRONG & DURABLE: Wooden kitchenware is well-seasoned to reduce chances of breakage and bending of wood.
EASY TO CLEAN: Smooth surface and edges prevent food from sticking. So, no cleaning hassles.

Use warm water and mild soap for cleaning.
A gentle hand wash is recommended.
Rinse thoroughly. Wipe dry well and store.

Always air dry wooden kitchenware after cleaning with water.
Avoid putting wooden utensils in the dishwasher.
Do not leave wooden products soaked in water for too long.
Apply olive/mineral oil periodically. It enhances the product's surface and prolongs its life.

Is this pure wood?
Yes, it is 100% natural wood.
Is it ISI certified?
Yes, The Indus Valley's wooden kitchenware is ISO 9001 certified.
How often can I use wooden kitchenware?
Regularly. It is made for daily use.
Is it dishwasher safe?
No, the wooden kitchenware is not dishwasher safe.
Does it leave a stain?
No. But remember to clean your wooden utensils and store them once dry.
MAKE THE RIGHT CHOICE
The Indus Valley Wooden Utensils

Plastic Utensils

100% Natural

Made from well seasoned, unpolished natural wood.

Non-Toxic

It is free from chemical coating, dyes & polish.

Anti-bacterial Properties

It is naturally resistant to bacteria.

Well Seasoned

Pre-seasoned to reduce chances of breakage & bending of wood.

Durable

Premium quality strong material. No bending or breakage.