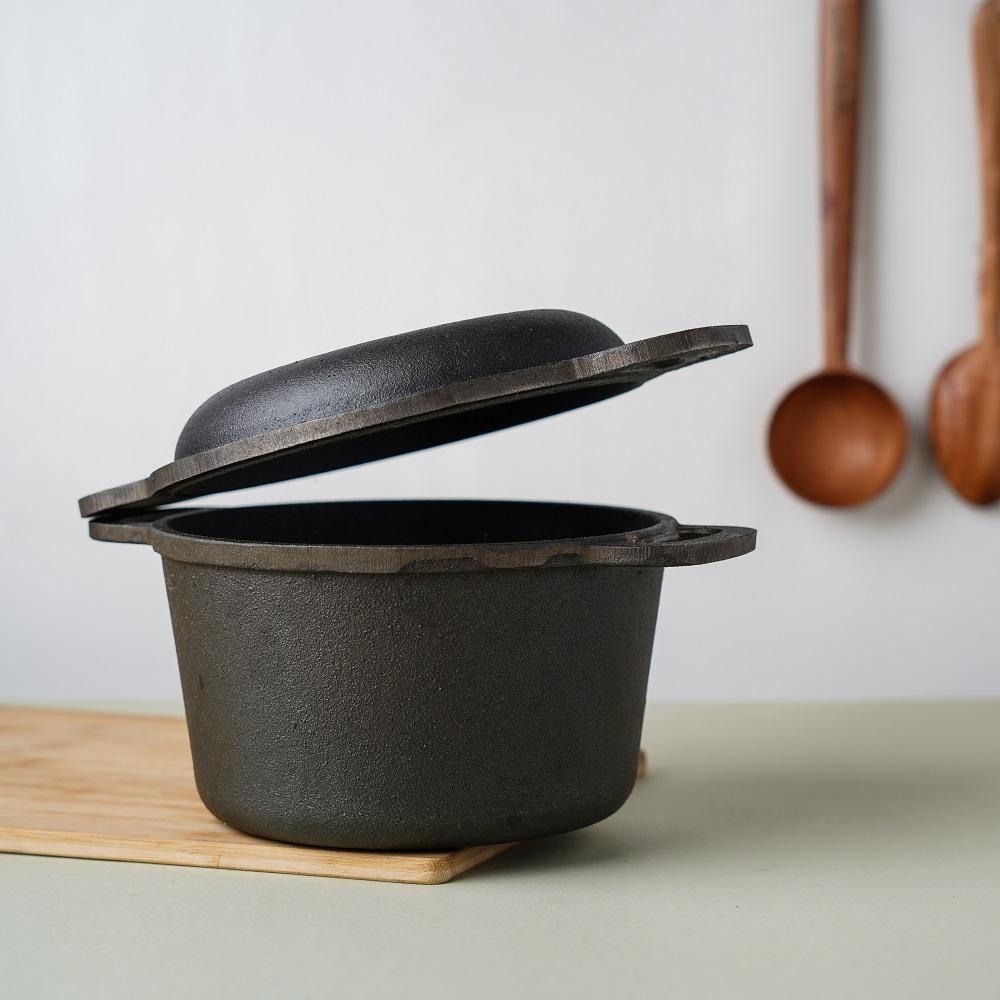 CASTrong Cast Iron Dutch Oven/ Casserole with Lid, Seasoned, 100% Pure, Toxin-free, Induction, 3L
Sale price
Price: Rs. 3,499
Regular price
MRP: Rs. 5,832
SAVE 40%
Incl. of all taxes
Unit price
per
Best for rice dishes | Makes family size meal
CASTrong Cast Iron Dutch Oven/ Casserole with Lid, Seasoned, 100% Pure, Toxin-free, Induction, 3L
The Indus Valley Cast Iron Dutch Oven with Lid is 100% natural, that is, pure cast iron. It is entirely food-safe and free from chemical coating. 
This cast iron dutch oven is referred to by different names. It is also called cast iron casserole, biryani pot, stockpot and saucepot. 
Cast iron adds iron to food that is good for health. It also adds distinct flavour to your food, making it more delicious. 
Considering these factors, cast iron dutch oven is healthier compared to nonstick cookware that has a toxic coating. With this cast iron biryani pot, cook with ease healthier and restaurant-like tasty food right at your home!
What's interesting about this heavy-duty cookware is that both the pot and lid of the dutch oven can be used for cooking and serving. The cookware is suitable for browning, sauteing, baking and so on. 
Pre-seasoned with 100% vegetable oil, the cast iron stockpot has a naturally non-stick finish. Even with less oil, the cooking results are excellent consistently.
The pre seasoned dutch oven cast iron works on gas, stove, induction stove, OTG and campfire. It supports even heating and heat retention. 
Best for traditional cuisines and slow cooking, the cast iron stockpot can be used to make biryani or any rice dishes, chicken curry, gravies, soups and even, bake cakes. 
It cooks food faster that saves gas. Plus, cast iron lasts for generations. Altogether the cast iron dutch oven is a good, money-saving investment. 

Gravies, Rice Dishes, Soup | Saute, Fry, Boil
Sale price
Price: Rs. 3,499
Regular price
MRP: Rs. 5,832
SAVE 40%
Incl. of all taxes
Unit price
per
Free COD Available
Free Shipping Above ₹1198
Secured Payments
Easy 7-day Return
Why you'll love it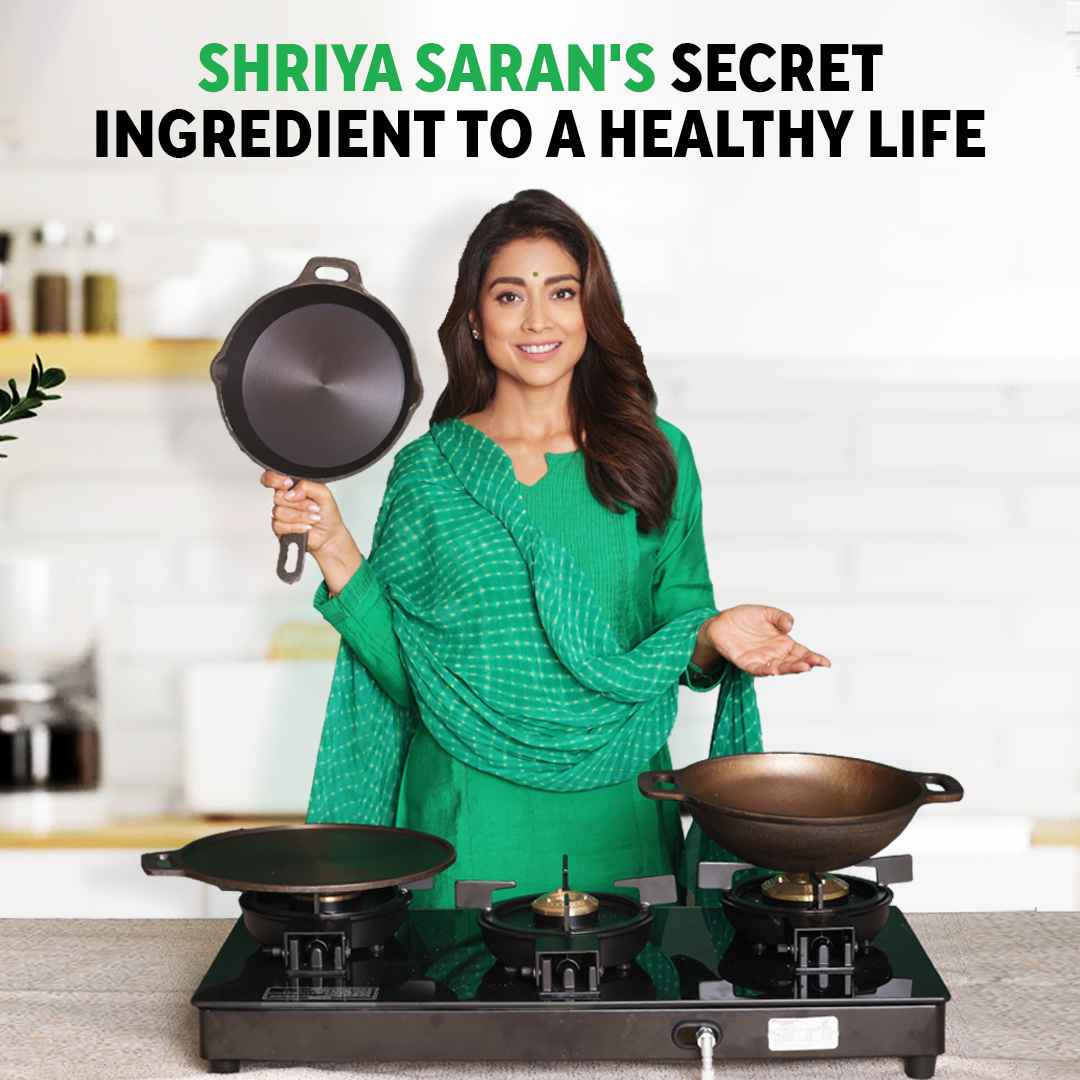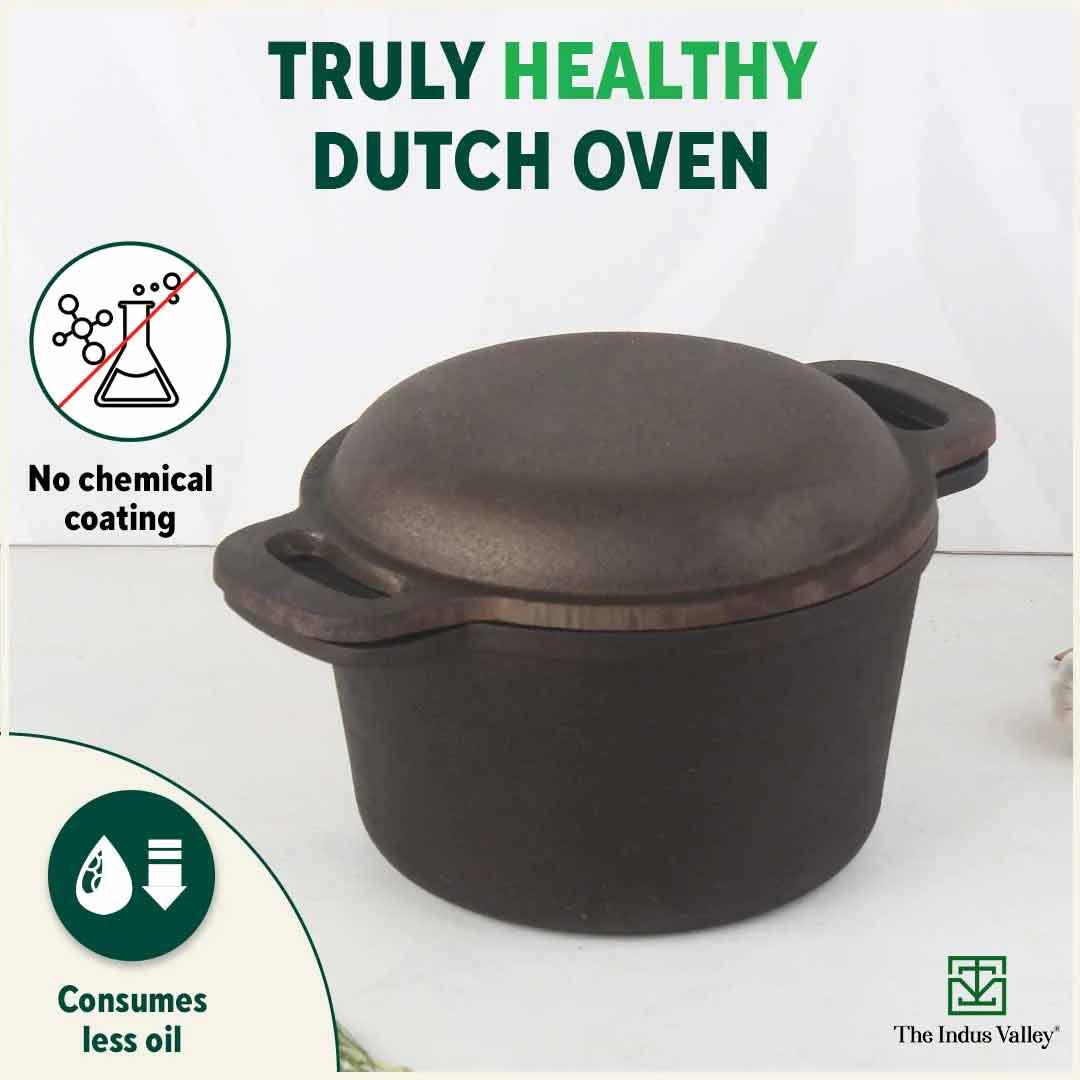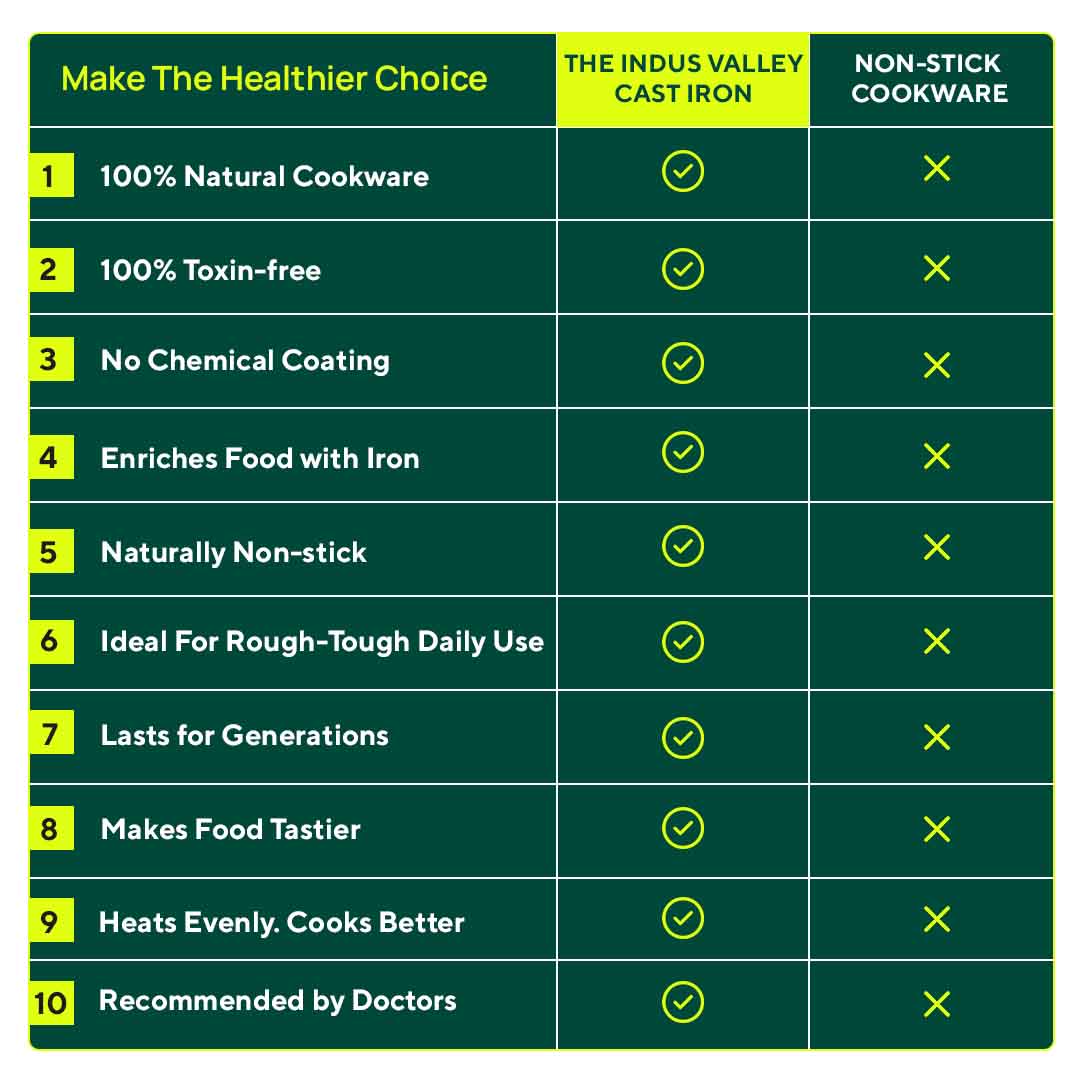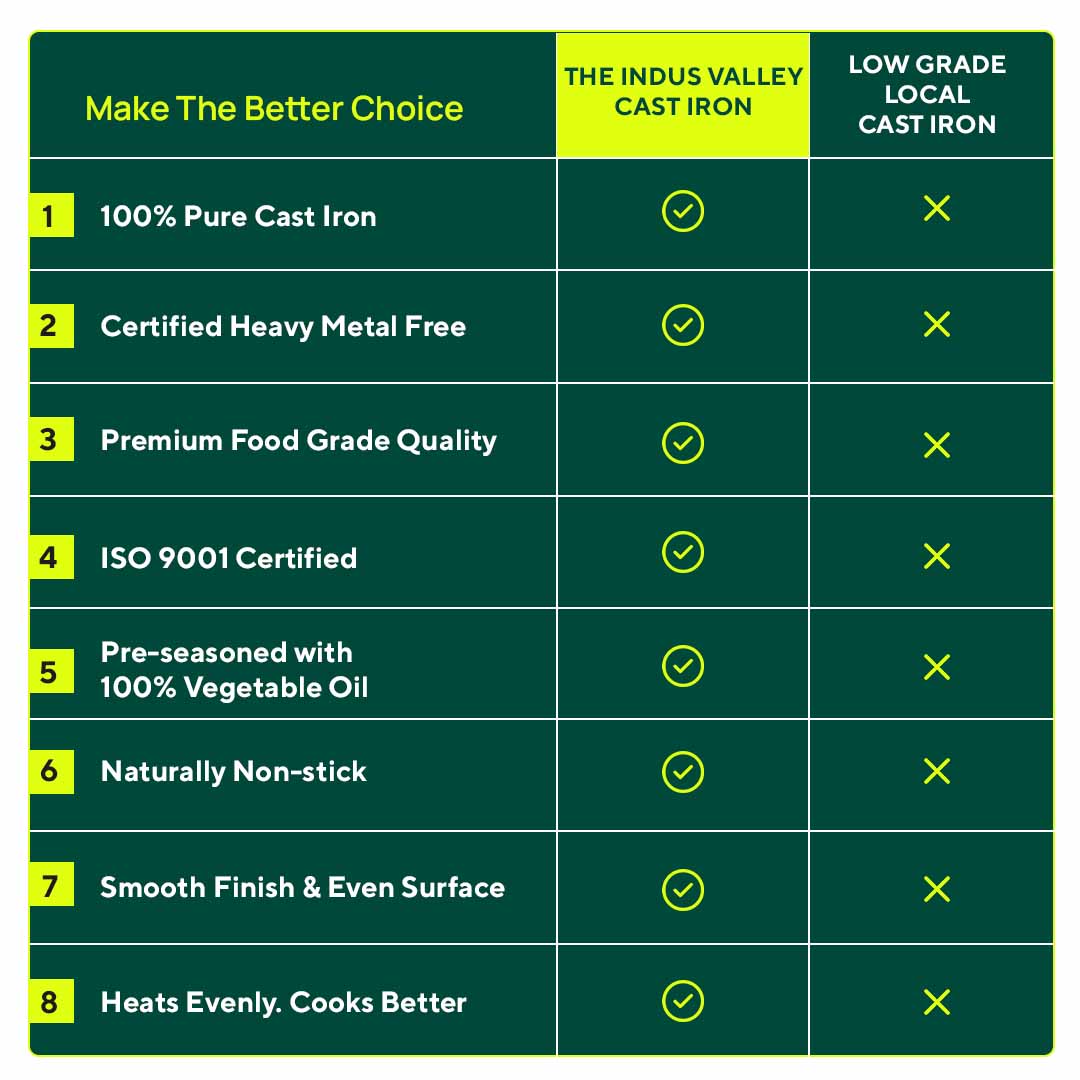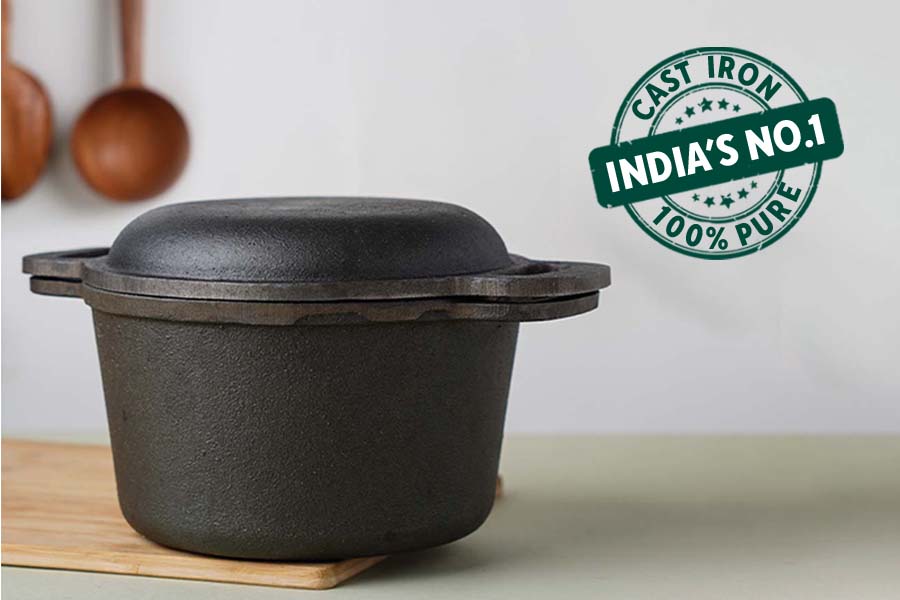 How to Season Cast Iron Cookware?
What to Cook on Cast Iron?
Promises We Live By
01
PROMISE OF HEALTH
Because your health is our No. 1 priority, we use nothing but 100% pure, superior-grade materials, free from PFOA, lead, and cadmium in our kitchenware.
02
PROMISE OF QUALITY
We fuss on the details. Be it performance or aesthetics, our kitchenware embodies quality that is built to last.
03
PROMISE OF EASE
All products are thoughtfully
designed to make everyday cooking easier, faster and more enjoyable.
Trusted & Loved By 5 Lakh+ Families 💚
Sunitha Ramkumar, Chennai, Tamil Nadu

Impressive, great cooking, super quality & value for money

Star Chef Amninder Sandhu

Tri-ply Stainless Steel range is beautiful & super functional!

Nandini Dinesh, Pondicherry

Guaranteed assurance of chemical-free cookware that will last for long.

Preeti Roy, Mumbai, Maharashtra

Recently I tried The Indus Valley Cast Iron Tawa & Skillet. They changed my lifestyle & made me healthier.

Priya Thacker, Bangalore, Karnataka

The Indus Valley curates to your need of leading a healthy lifestyle by providing heirloom kitchen utensils which are strong and Sturdy.

Alisha Hina, Mumbai, Maharashtra

The Indus Valley cookware makes the cooking so easy and delicious

Shubhangi Jain, Mumbai, Maharashtra

The Indus Valley Cast Iron Products last for a lifetime.Cast Iron gives the traditional rustic taste to your food
Why you'll love us
India's #1 Healthy Kitchenware Brand
100% Healthy Cookware
ISO 9001 Certified
Safest Cookware for Children
100% Toxin Free
No Chemical Coating
Trusted by 5 Lakh+ Families
Recommended By Doctors
Loved By Masterchefs
MAKE THE RIGHT CHOICE
The Indus Valley Cast Iron Cookware

Non-stick Cookware

100% Natural Cookware

Free from chemicals & artificial coatings.

Adds Iron to Food

Makes your food tastier and enriches it with iron.

Naturally Non-stick

Pre-seasoned. Consumes less oil for cooking.

Heats Evenly. Cooks Better

Best in even heating and heat retention that gives excellent cooking results consistently.

Cookware for Lifetime

Ideal for rough & tough daily use. Built to last for generations.
Premium Cast Iron Dutch Oven with Lid, Toxin-free, Pre-seasoned, Induction Base, Naturally Non-stick
Sturdy Product
Ordered the dutch oven through Indus Valley. Product was of good quality and sturdy - just what I wanted. Order was executed flawlessly.
Perfect utensil
Great product and very well seasoned
Cast Iron Dutch Oven with Lid
Award Winning Kitchenware
Winners at the e4m D2C Revolution Awards 2022

Start-up of the Year 2022 – Tie Con Chennai

Best Ecommerce Startup of the Year 2021 - FICCI

India's Top 10 Fastest Growing D2C Brands: Inc42 Media

500 Challenger Brands Featured in YourStory