Premium Stainless Steel Vacuum Insulated School Kid Water Bottle, Silicone Sippy & Bag,Leakproof Lid
Sale price
Offer Price: Rs. 1,214
Regular price
MRP: Rs. 2,200
Unit price
per
Vacuum Insulated Stainless Steel Flask
Premium Stainless Steel Vacuum Insulated School Kid Water Bottle, Silicone Sippy & Bag,Leakproof Lid
The Indus Valley Insulated Bottle Kids Sippy (450 ml) with Bag is 100% food-safe and BPA-free. Made of 304 grade stainless steel, the kids stainless steel water bottle is non-toxic and rust-free.
Your child gets to enjoy the pure taste of water. This safe and lightweight water flask is a healthier alternative to plastic water bottles.

The smart children water bottle has double-walled insulation. It helps to keep cold beverages cold for 8 hours and hot ones for up to 6 hours.
Your little one can safely carry this school water bottle, as it is leak-proof and has a cool touch body. Healthy cool way to keep your child hydrated on the go! Best for gifting also!
The kids water bottle has an opening wide enough for easy filling. Plus, makes it easy to clean.
Trust Indus Valley vacuum flask to be the best water bottle for girls and boys! So, if you are searching for cute water bottles that are toxin-free for your little ones, get it here!
TEMPERATURE CONTROLLING TIP: Pre-rinse bottle with hot water if you want to store hot beverage & cold water for cold beverage.
Water, Tea, Coffee, Juice | Office, Gym, Outdoors
Sale price
Offer Price: Rs. 1,214
Regular price
MRP: Rs. 2,200
Unit price
per
Claim Your Offer
+ Show More Offers
Free COD Available
Free Shipping Above ₹1198
Secured Payments
Easy 7-day Return
Why you'll love it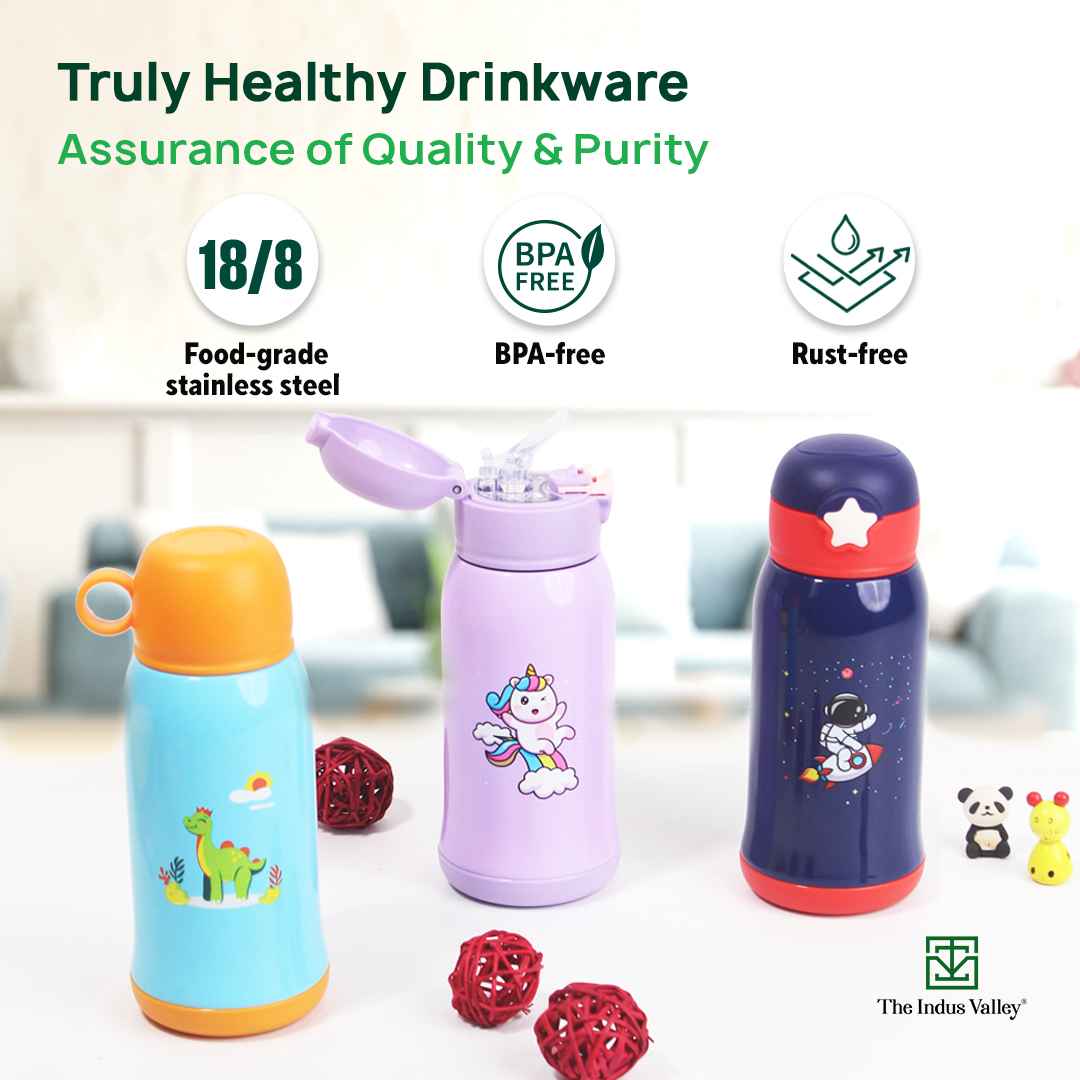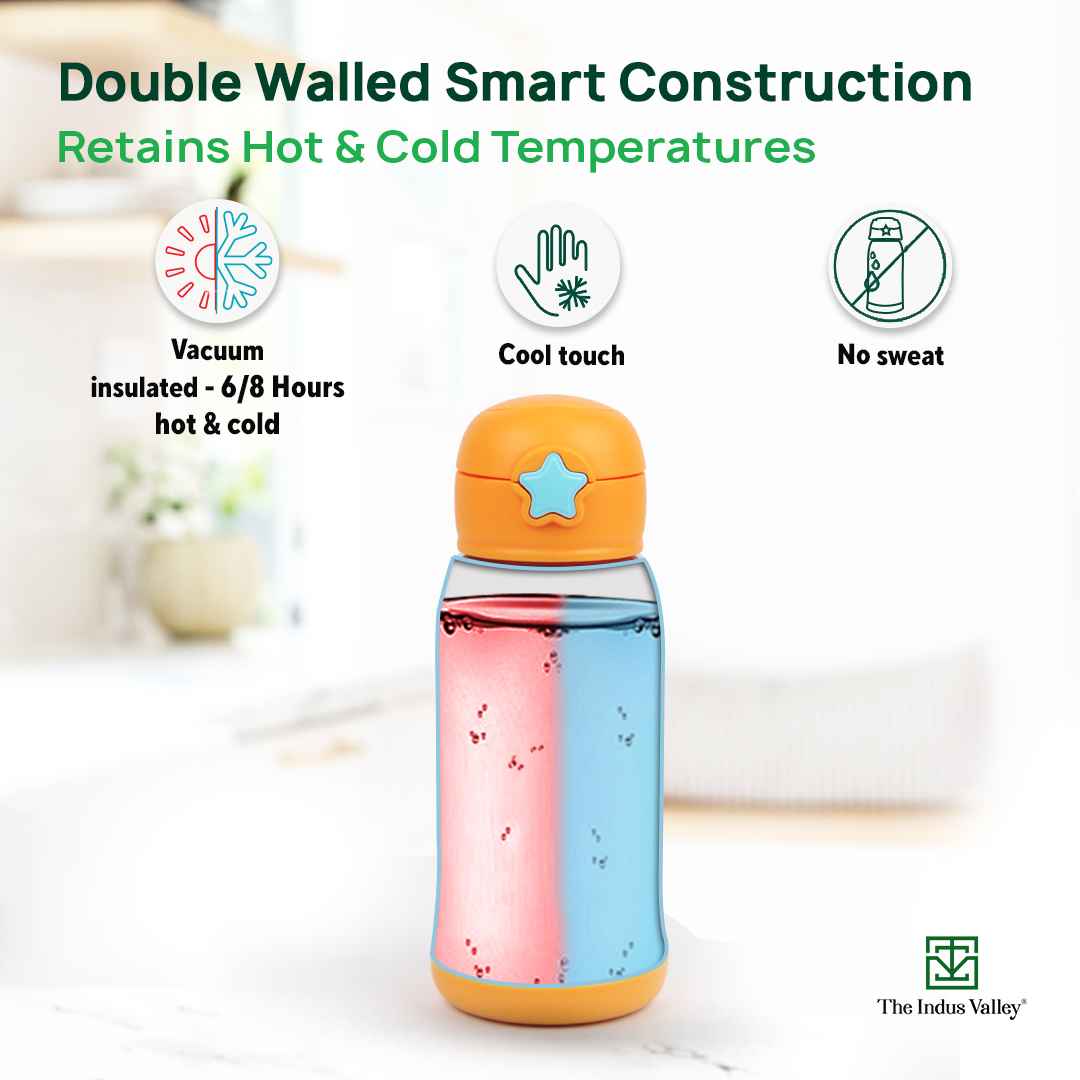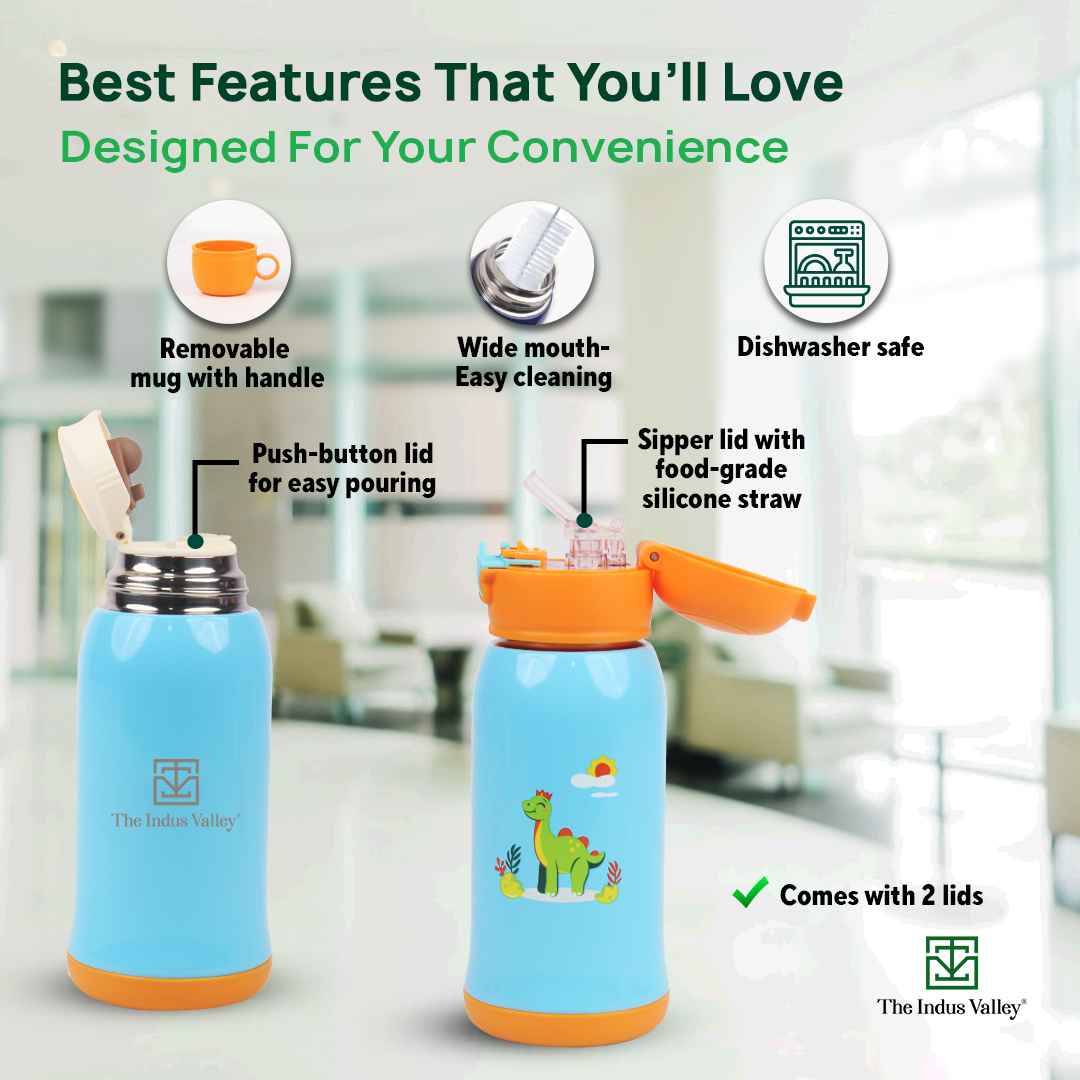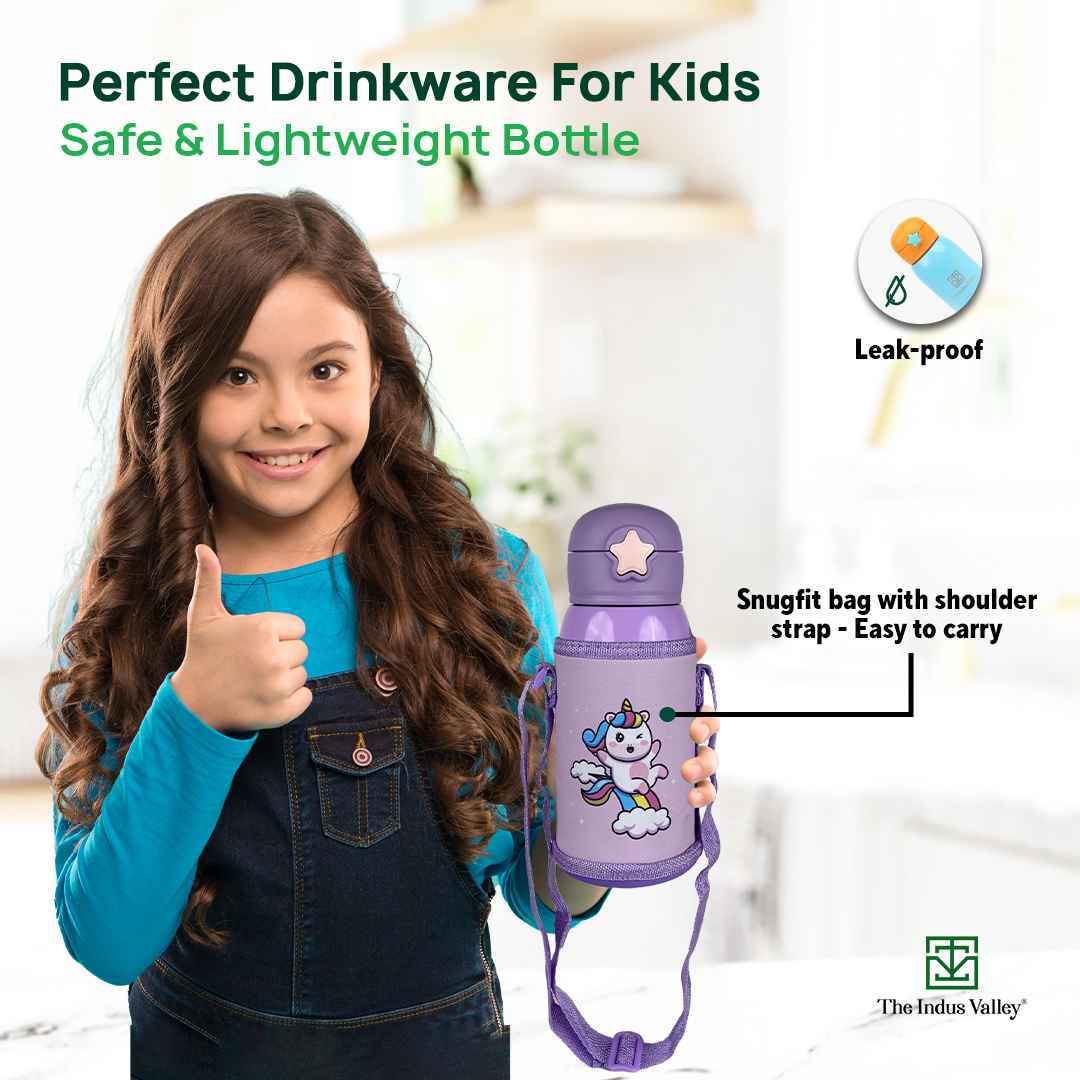 Use & Care for Best Performance
Promises We Live By
1. PROMISE OF HEALTH
Because your health is our No. 1 priority, we use nothing but 100% pure, superior-grade materials, free from PFOA, lead, and cadmium in our kitchenware.
2. PROMISE OF QUALITY
We fuss on the details. Be it performance or aesthetics, our kitchenware embodies quality that is built to last.
3. PROMISE OF EASE
All products are thoughtfully
designed to make everyday cooking easier, faster and more enjoyable.
India's No.1 Healthy Cookware Brand
100% Healthy Cookware
No Chemical Coating
100% Toxin Free
ISO 9001 Certified
Safest For Children
Long Lasting
Loved By Chefs
Recommended By Doctors
Trusted By 5Lac+
Frequently Asked Questions
HOT AND COLD: Enjoy hot or cold drinks with our superior vacuum insulation technology that maintains temperature for long hours.

304 GRADE STAINLESS STEEL: Rust-free 18/8 grade stainless steel. Ideal for storing all kinds of liquids. No harmful toxic coatings - 100% food-safe.

LEAK PROOF: No drips. The flask is leak-proof so you can easily carry it with you when you're on the go.

EASY TO CARRY: The drinkware is easy to carry. Take it with you to the office, gym or any place you travel.

PERFECT MOUTH: The flask is designed with an opening wide enough for easy use. Makes it easy to clean too.

DON'T SWEAT IT: Designed to eliminate condensation so no sweat appears on the outside while storing cold water. Cool touch exterior ensures no heat is transferred to the outside when hot beverage is stored.

Pre-rinse bottle with hot water if you want to store hot beverage & cold water for cold beverage.

Fill the drinkware with warm water. Add a few drops of dishwashing liquid.
Recommended to soak for 3-5 minutes.
Gently clean the interior with a bottle scrubber. Use a soft scrub pad on the outside.
Rinse with warm water.
Wipe with a clean cloth. Allow the flask/mug to air dry.

Pour half cup with a mixture of vinegar & baking soda inside the drinkware.
Fill half cup of hot water.
Keep this overnight (without the lid).
Empty the drinkware next. Rinse thoroughly with clean water.
Wipe with a clean cloth. Allow it to air dry.

Is the vacuum bottle safe?
Yes, it is. The Indus Valley steel vacuum flasks are 100% food safe and have no chemical coating.
Is it really dishwasher safe?
Yes, it is. But to ensure the long life of the bottle and to retain its appearance, we recommend hand washing it whenever possible.
Can I store cold drinks and juices?
Yes, you can. Remember to clean the bottle well after use.
Can I store hot tea or coffee?
Yes, you can. Remember to clean the bottle well after use.
Where can I use it?
Ideal for usage in office, school, college, work out sessions, outings and home.
MAKE THE RIGHT CHOICE
The Indus Valley Steel Vacuum Flask

Other Flasks

Premium Quality Material

18/8 food-grade stainless steel & BPA-free.

Superior Vacuum Insulation

Keeps your drinks hot/cold for long hours.

Rust Resistant

Premium grade steel that does not rust or leave metallic taste.

Cool Touch Body

No heat is transferred outside. Safe to touch.

Easy to Use

Cool touch body and leaf proof design makes it easy to use and carry.
Best for kids
Size is perfect for kids, my child likes the colour and is very much excited that she have 2 options of caps where she interchanges are per her need.