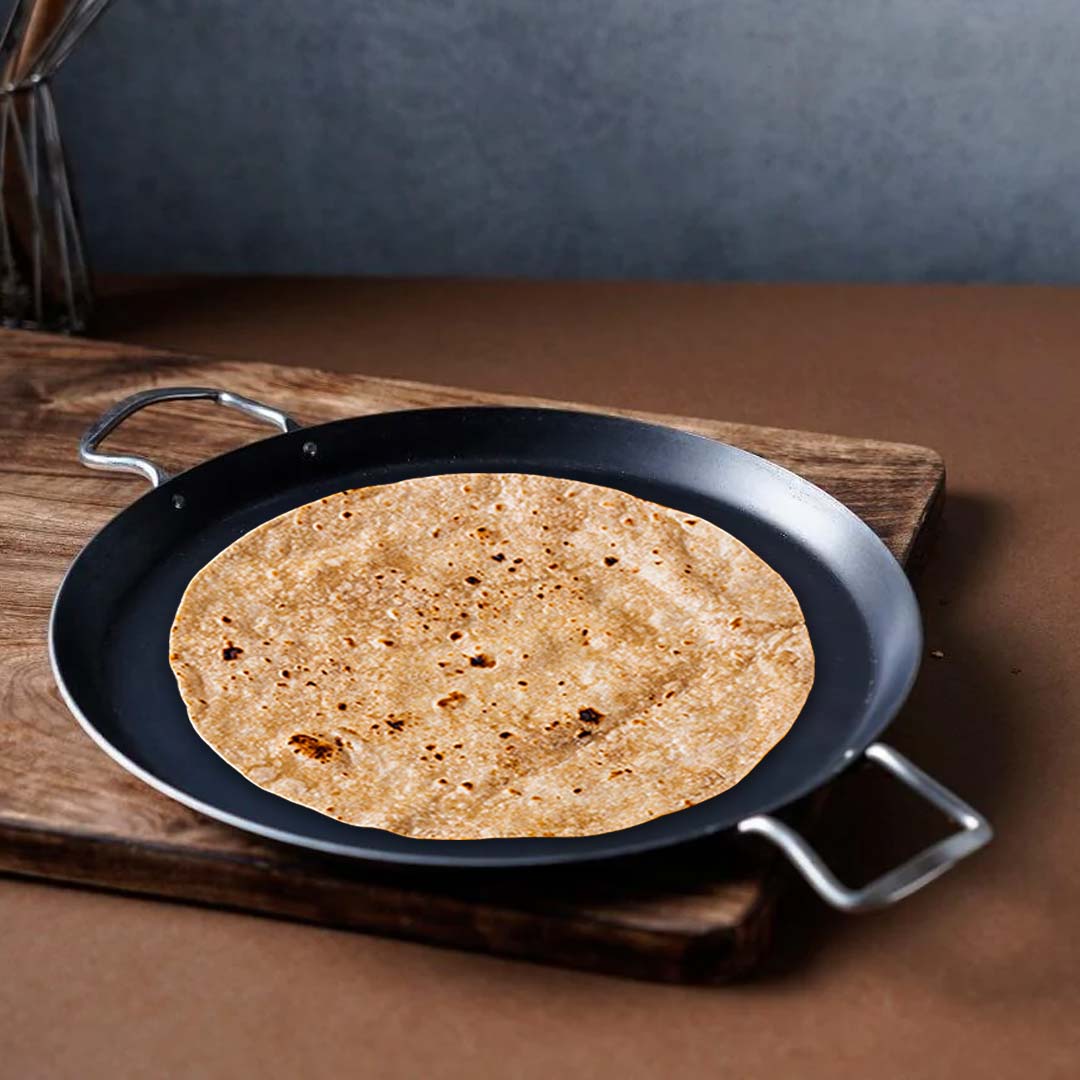 100% Pure Sheet Iron Tawa, 2 Handles, Seasoned, Toxin-free, Induction, 28.5cm, 1.7kg
Sale price
Offer Price: Rs. 699
Regular price
MRP: Rs. 1,165
Unit price
per
Great for quick cooking | Convenient to use
100% Pure Sheet Iron Tawa, 2 Handles, Seasoned, Toxin-free, Induction, 28.5cm, 1.7kg
The Indus Valley Pure Sheet Iron Tawa with Double Side Handle is 100% natural - made from pure iron. Make the best roti tawa choice that is totally food-safe and with no chemical coating. A healthier alternative to non-stick tawa that has toxic coating. 
Iron tawa releases iron in food that's good for your health. Makes food tastier by adding it with a distinct flavour. 
Iron tawa distributes heat evenly and enables quick cooking. It can withstand extreme heat, without breaking.  
Pre-seasoned with vegetable oil, this pure iron tawa gives restaurant-like taste to your homemade dosa, roti, chapati, paratha, omelette, etc. It is suitable for shallow-frying, searing, roasting and so on. 
Pre-seasoned with 100% vegetable oil, the naturally non-stick surface of iron tawa prevents food from sticking or burning. This also makes cleaning super easy.
The flat iron tawa has a wide cooking surface with raised edge to limit food/oil spread. 2 strongly riveted stainless steel loop handles for firm grip. No rough or sharp edges.
It is suitable for gas stove, induction top, OTG & outdoor cooking. With a sturdy, lightweight and durable body, the iron tawa is ideal for rough-tough use. 
It's resistant to damages, scratches, chipping & high heat. Buy tawa online that's safe for your health and gives effortless cooking.  
If you want to buy tawa online that is good for health and durable for daily cooking, this Indus Valley iron tawa is for you! Make this cookware your favourite and get the best iron tawa price only from The Indus valley!    
Paratha, Omelette, Uttapam | Shallow Frying
Sale price
Offer Price: Rs. 699
Regular price
MRP: Rs. 1,165
Unit price
per
Claim Your Offer
+ Show More Offers
Free COD Available
Free Shipping Above ₹1198
Secured Payments
Easy 7-day Return
Why you'll love it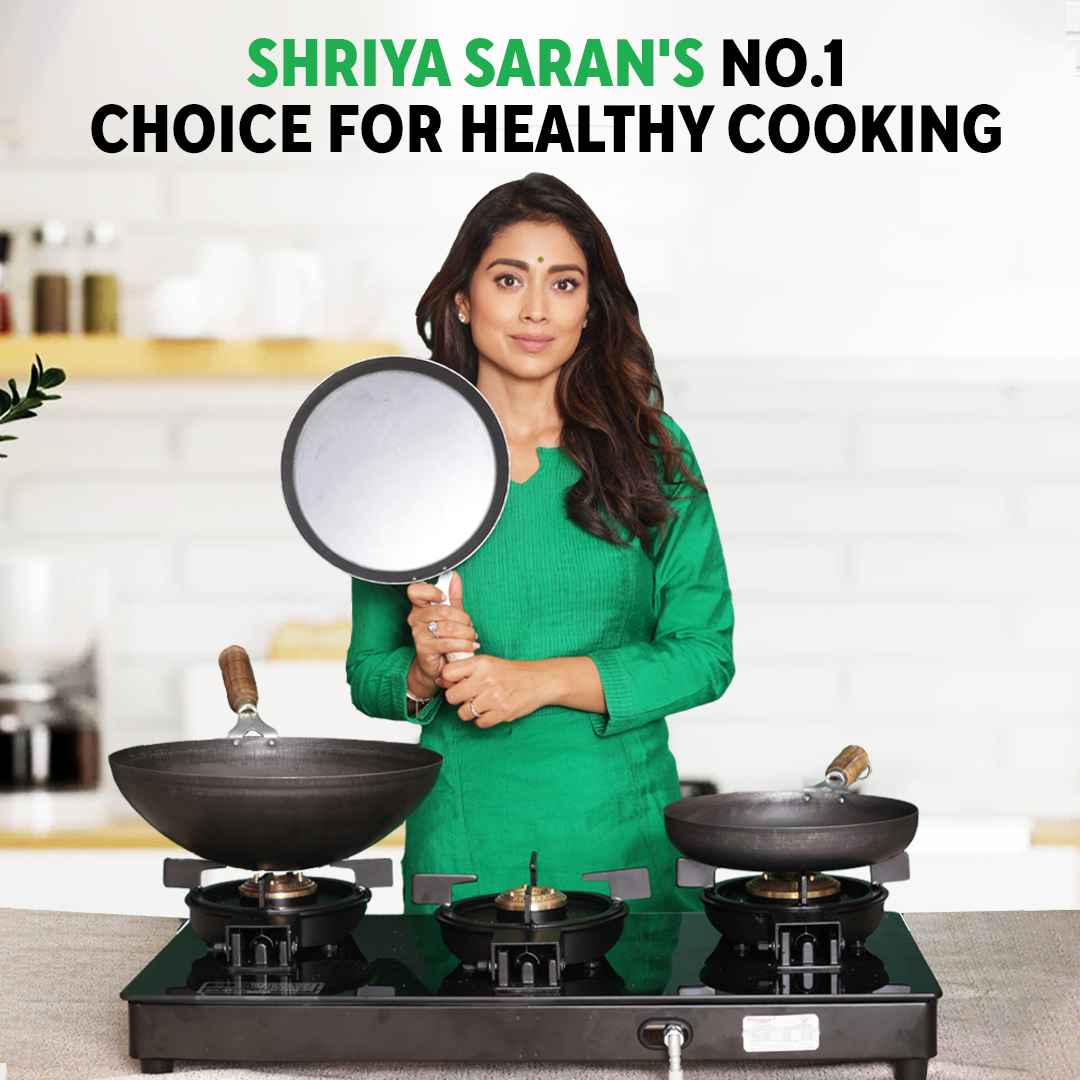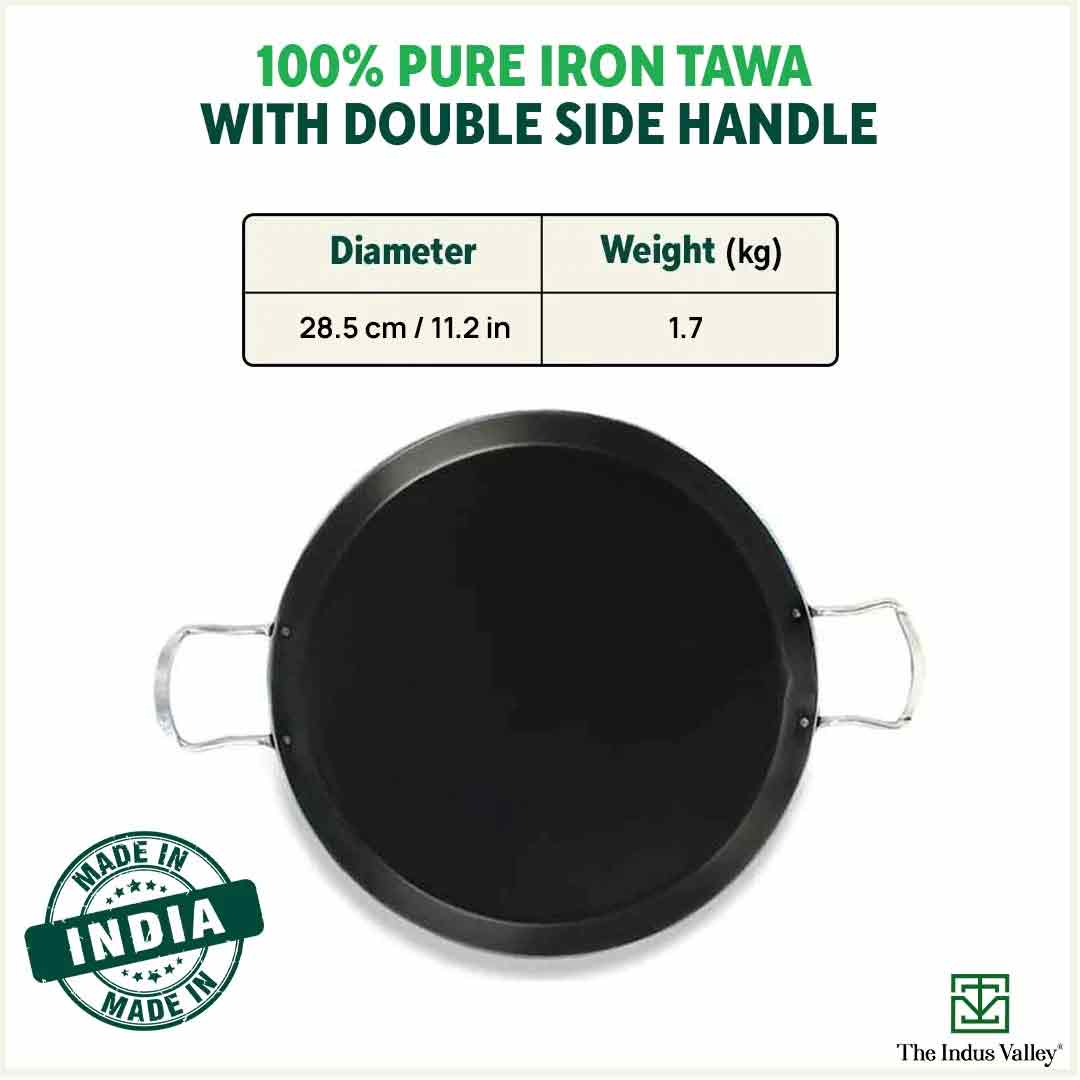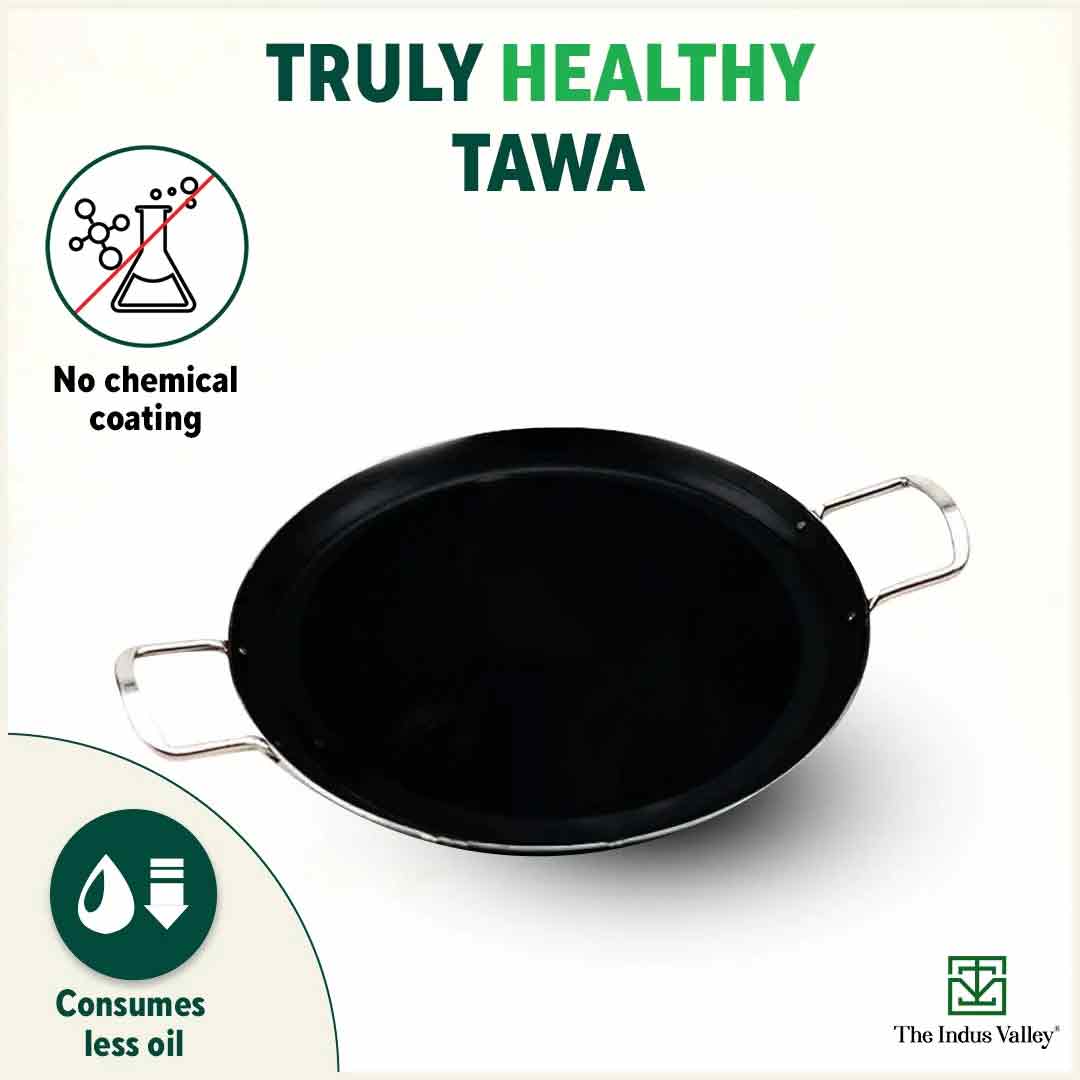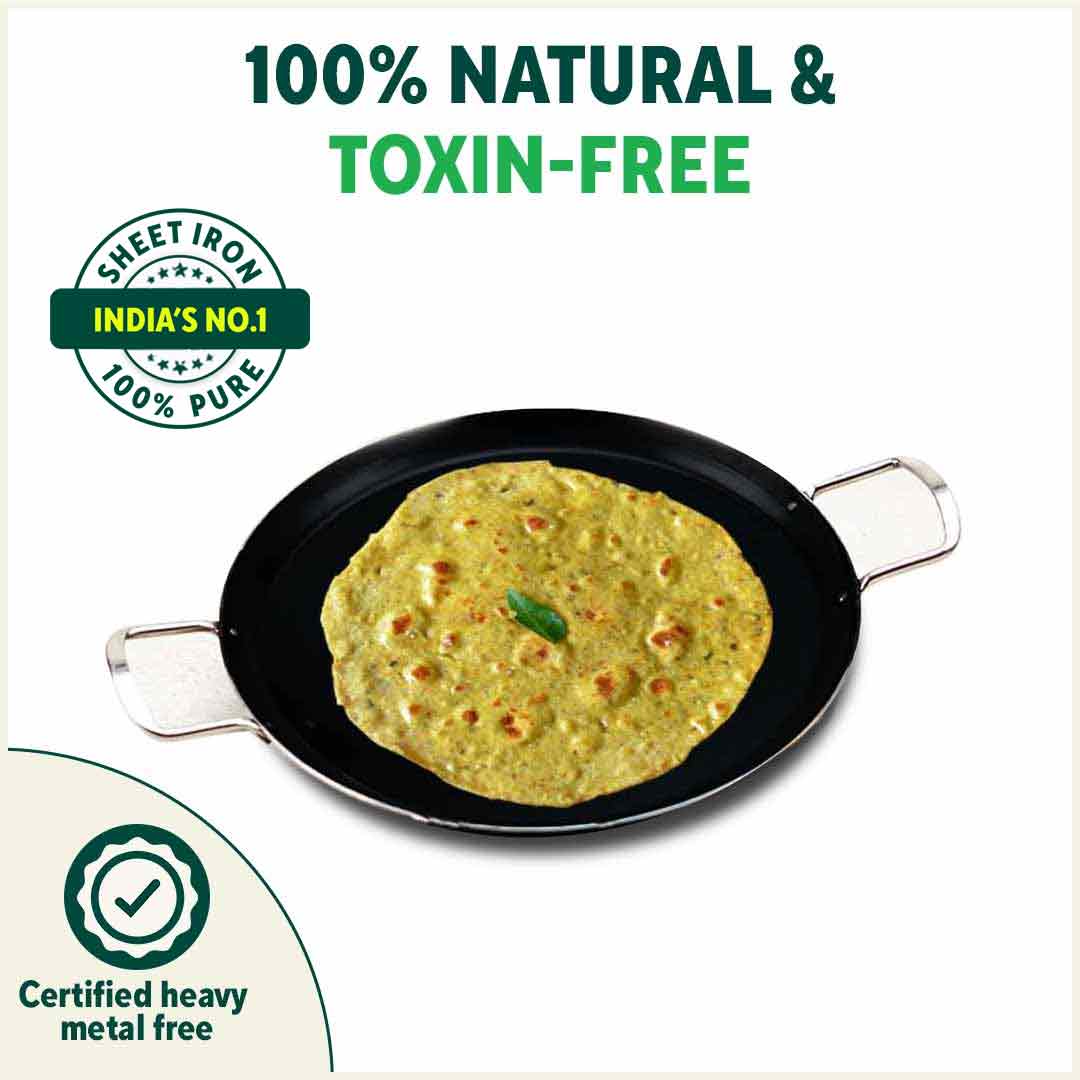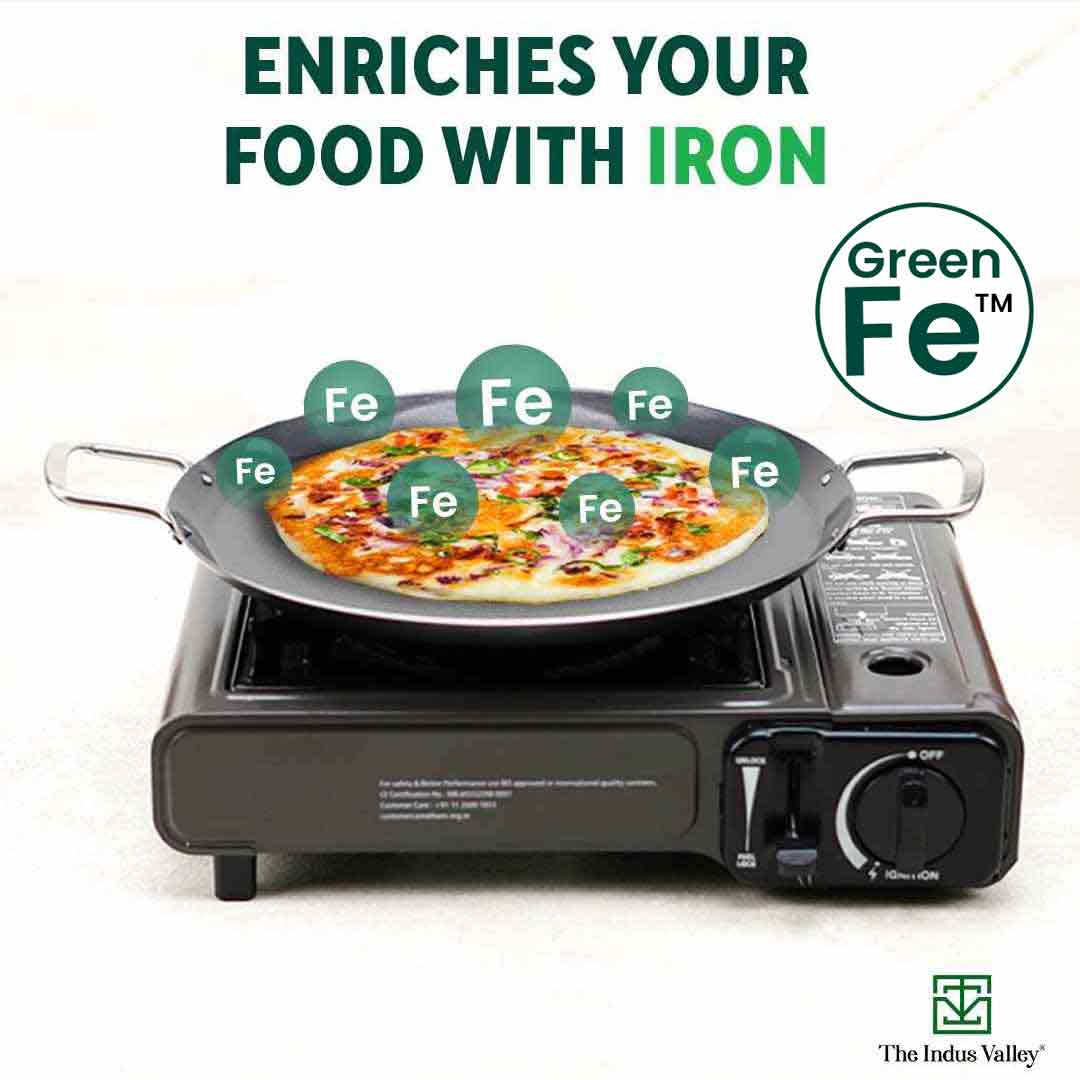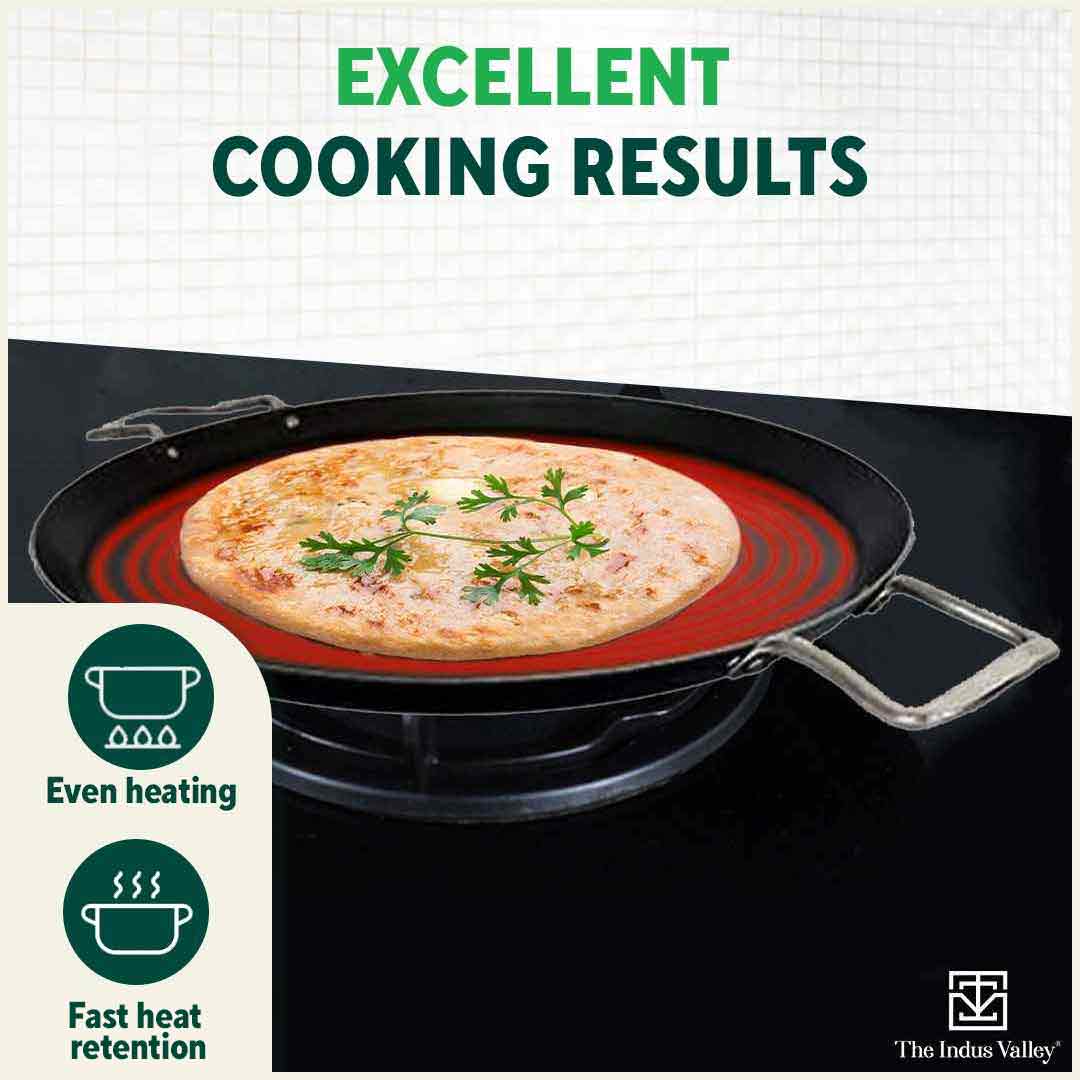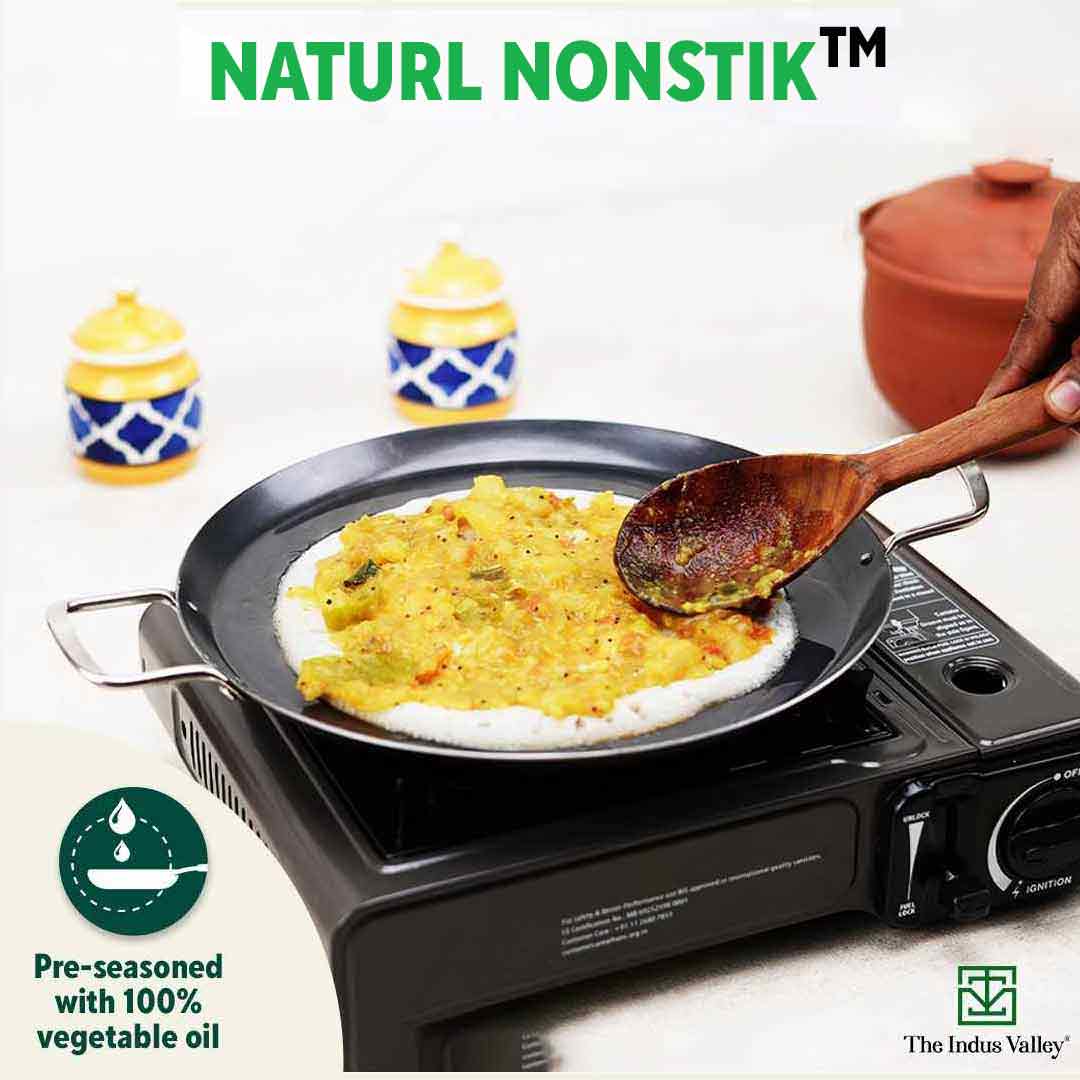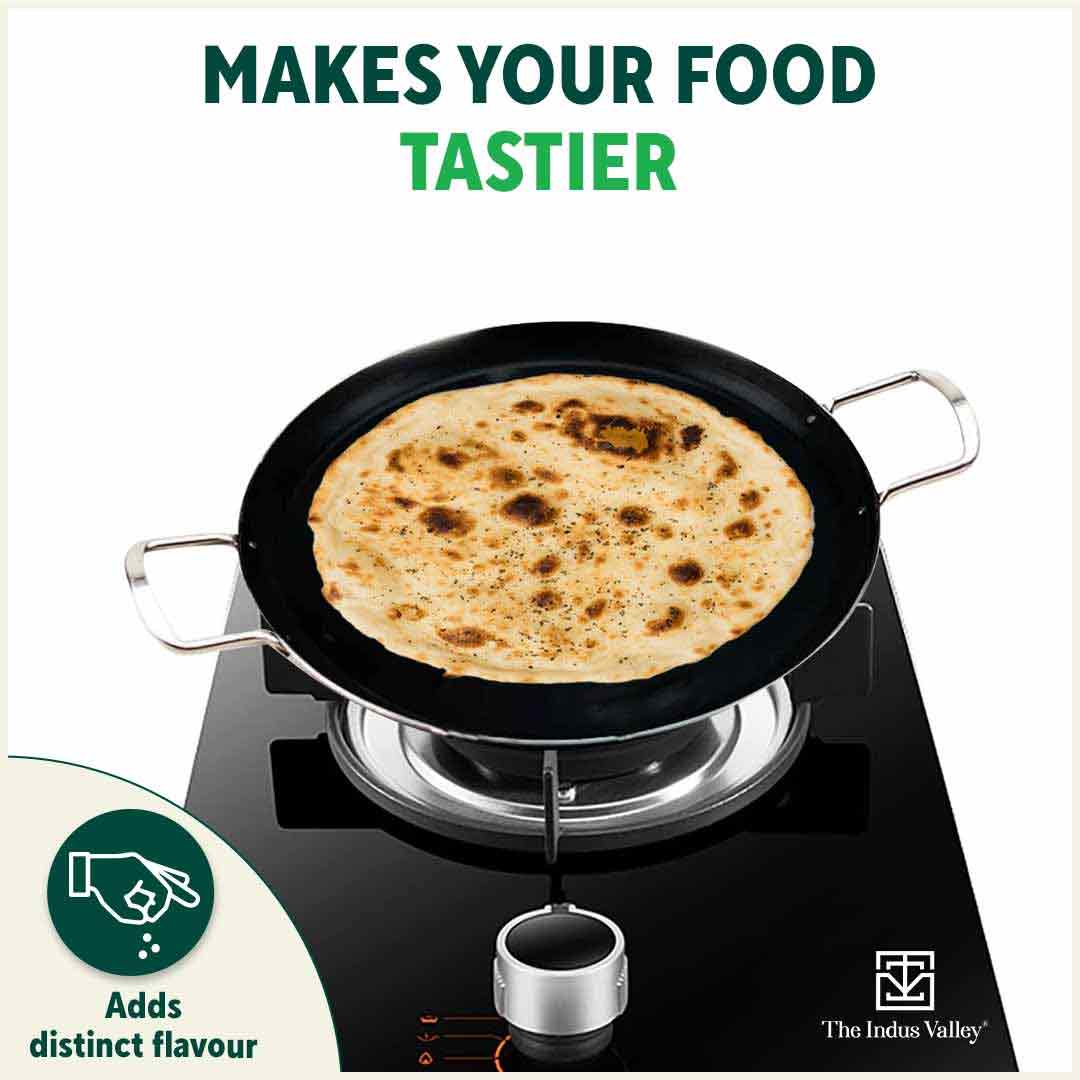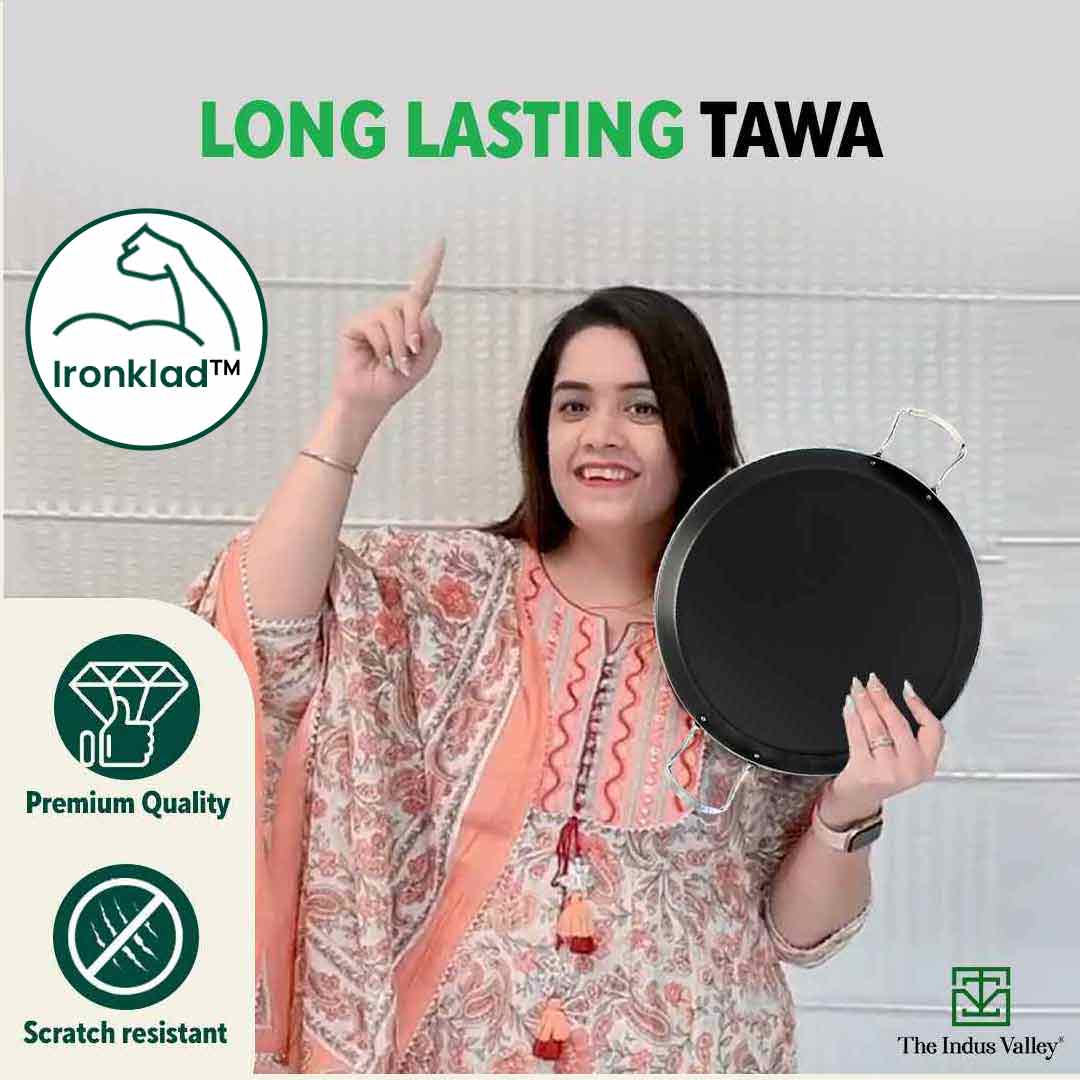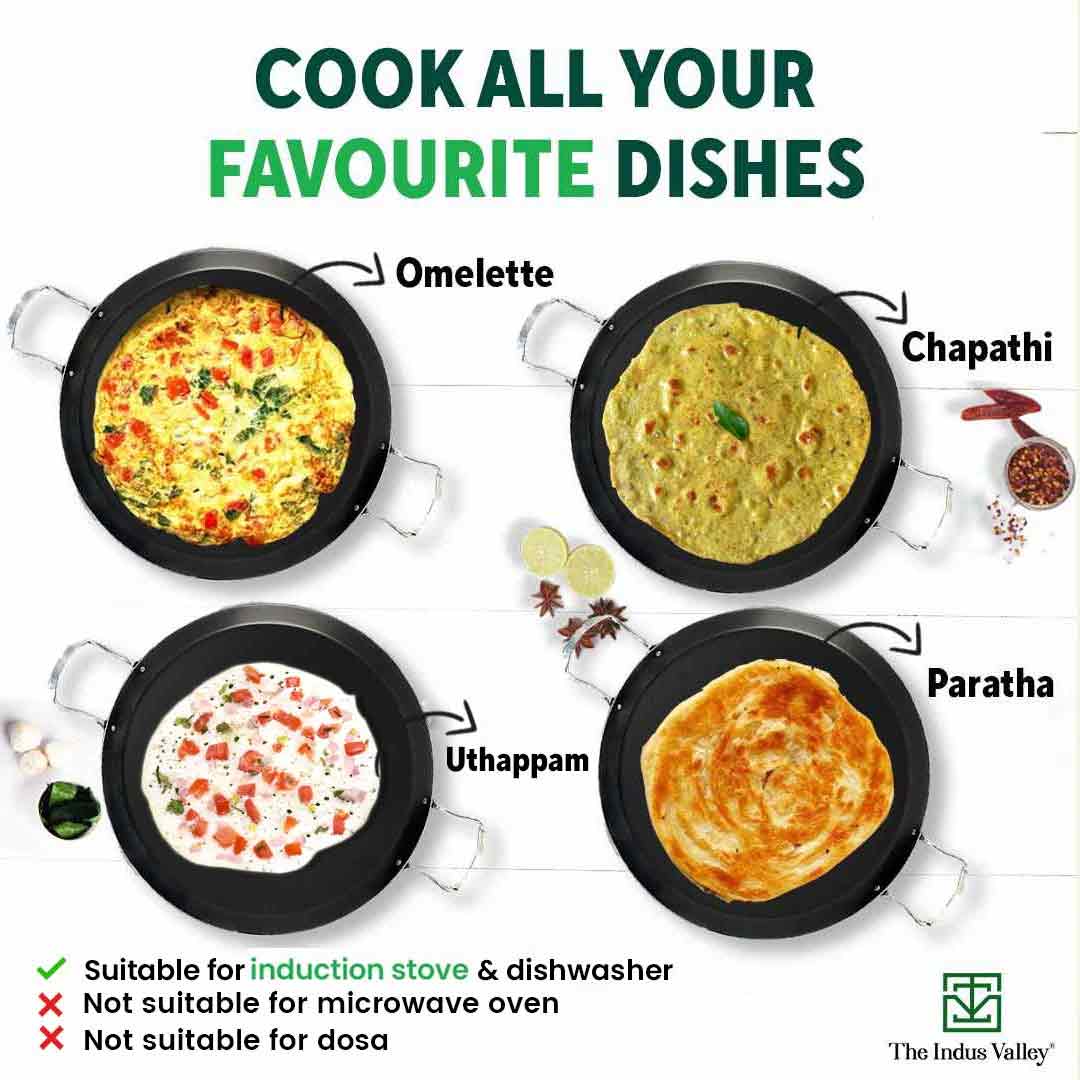 Use & Care for Best Performance
Promises We Live By
1. PROMISE OF HEALTH
Because your health is our No. 1 priority, we use nothing but 100% pure, superior-grade materials, free from PFOA, lead, and cadmium in our kitchenware.
2. PROMISE OF QUALITY
We fuss on the details. Be it performance or aesthetics, our kitchenware embodies quality that is built to last.
3. PROMISE OF EASE
All products are thoughtfully
designed to make everyday cooking easier, faster and more enjoyable.
India's No.1 Healthy Cookware Brand
100% Healthy Cookware
No Chemical Coating
100% Toxin Free
ISO 9001 Certified
Safest For Children
Long Lasting
Loved By Chefs
Recommended By Doctors
Trusted By 5Lac+
Frequently Asked Questions
100% NATURAL COOKWARE: No harmful chemical coatings. 100% toxin-free & food-safe.
ENRICHES FOOD WITH IRON: Adds iron content to your meals that helps fight iron deficiency. Truly healthy cookware!
NATURALLY NON-STICK: Pre-seasoned with 100% vegetable oil.
TASTIER FOOD: Makes your dishes more delicious with a distinct flavour.
MONEY SAVING INVESTMENT: Pure Iron cookware lasts for generations & saves more than Rs 20,000 spent on non-stick which hardly lasts for 2 years.
MULTI-PURPOSE: Effortlessly cook your favourite dishes. Suitable for gas stoves, induction stoves (only flat-base ones), OTGs & campfires.
SUPERIOR PERFORMANCE: Cooks faster. Saves gas. Best in even heating & heat retention that gives excellent cooking results consistently.

Rinse & thoroughly dry the cookware with a paper towel or cloth.
Pour a little vegetable oil.
Use a clean cloth to apply oil around the entire cookware surface, including the outer portion.
Mildly heat the cookware.
Wipe off excess oil, if any. Store cookware until next use.

Rinse with water & use a little diluted dishwashing liquid/soap for cleaning.
Clean gently with a soft sponge/scrub pad.
Rinse & towel dry.
Apply a light layer of cooking oil after drying. Recommended to mildly heat the cookware before applying oil.
Wipe off excess oil, if any. Store cookware until next use.
Before the initial use, a gentle wash is recommended.

Is non-stick bad for me?
Chemical-coated non-stick cookware release toxins in food at high temperatures. These toxins remain in body forever! Hence called "Forever Chemicals".
Is iron cookware good for health?
Pure iron cookware adds iron to food that is good for our health. Thus, it is a healthier alternative to non-stick cookware that has harmful chemical coatings.
What is meant by seasoning?
The process of applying a layer of cooking oil over pure iron cookware is called seasoning. It thus gets a naturally non-stick surface.
Will iron cookware rust?
Yes, pure iron cookware will rust if exposed to water for a prolonged period of time. Season it to get back the sheen.
Can iron cookware be used on induction cooktop?
All flat-base pure iron cookware are induction-friendly.
How often can I use iron cookware?
Regularly. It gets better with use.
MAKE THE RIGHT CHOICE
The Indus Valley Pure Iron Cookware

Non-stick Cookware

100% Natural Cookware

Free from chemicals & artificial coatings.

Adds Iron to Food

Makes your food tastier and enriches it with iron.

Naturally Non-stick

Pre-seasoned. Consumes less oil for cooking.

Heats Evenly. Cooks Better

Best in even heating and heat retention that gives excellent cooking results consistently.

Long Lasting Cookware

Ideal for rough & tough daily use. Built to last for decades.
Very good quality... love this product
Tawa +Double Sided Handle Pre-seasoned Ind.12"
It's a very good piece i tried makg dosas a couple of times turned good, but a little heavy to handle
100% Pure Iron Tawa with Double Side Handle, Naturally Non-stick, Pre-seasoned, Induction, 12 Inch
Excellent Iron Tawa
Really nice product... Very happy with my purchase.... Thank you very much Indus valley
100% Pure Iron Tawa with Double Side Handle, Naturally Non-stick, Pre-seasoned, Induction, 12 Inch