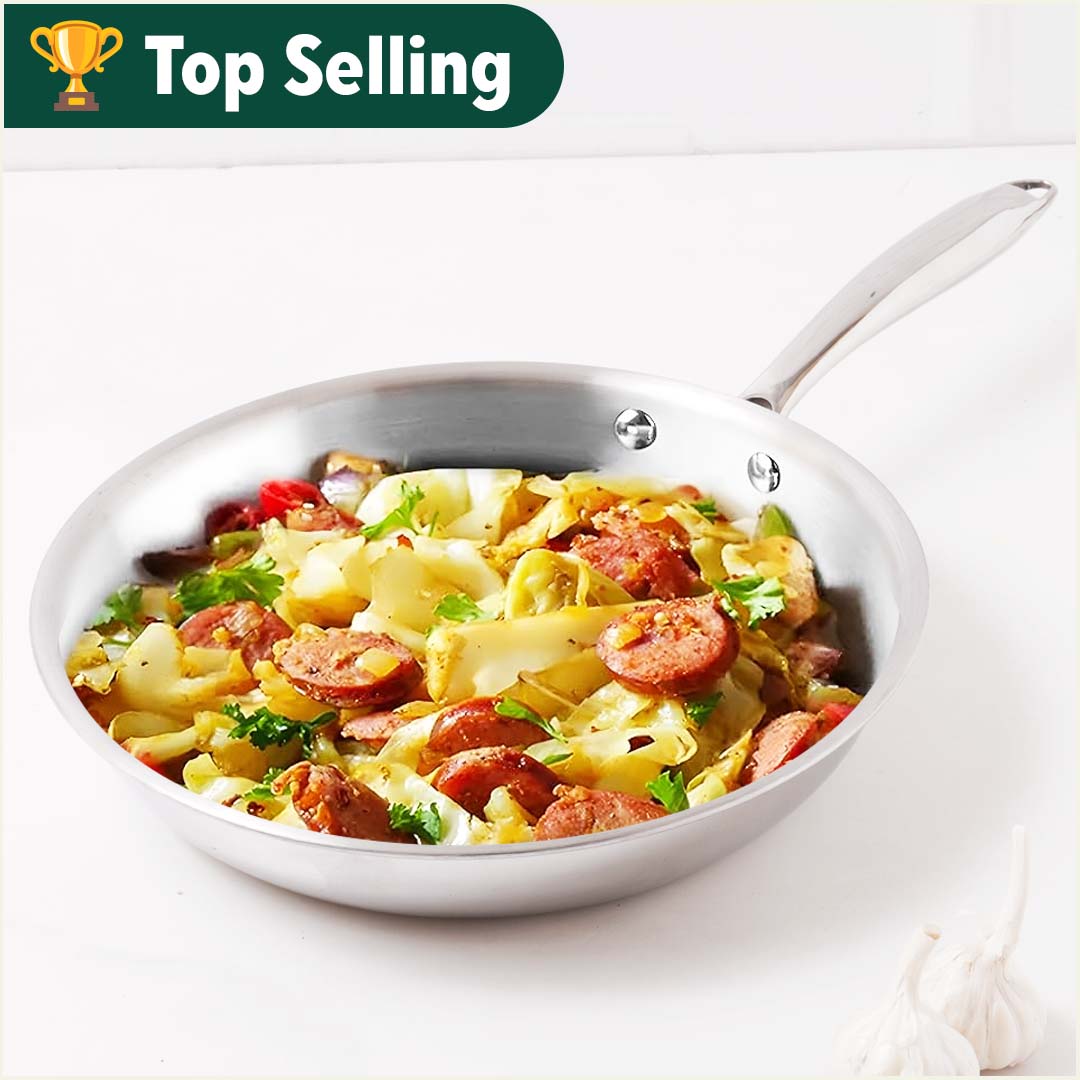 TurboCuk Tri-ply Stainless Steel Fry Pan, Premium 3 Layer Body, Induction, Non-stick, 23.4/25.4/28 cm, 1.5/1.7/1.9L
Sale price
Offer Price: Rs. 1,699
Regular price
MRP: Rs. 2,830
Unit price
per
Great for quick cooking | Easy to use & clean
TurboCuk Tri-ply Stainless Steel Fry Pan, Premium 3 Layer Body, Induction, Non-stick, 23.4/25.4/28 cm, 1.5/1.7/1.9L
The Indus Valley's TurboCukTM Triply Stainless Steel Frying Pan/Skillet will give you a great, effortless cooking experience, without compromising on your health and ease of cooking.
Made of 100% food-safe metals, the triple layer construction of the skillet - from base to rim - prevents food from burning or sticking. So, it's super easy to clean!
Simply wash with dishwashing soap, wipe dry and store! Your search for the best frying pan in India will surely end here. 
This chemical-free and food-safe frying pan is suitable for sauteing vegetables, browning, searing meat, roasting chicken or making omelettes, scrambled eggs, cookies, etc.
Cook your favourite dishes 2X faster! This best quality frying pan conducts heat rapidly and evenly. 
These factors help to preserve 85% of nutrients and you will achieve desired results with minimal oil. Perfect for traditional cooking and suitable for fast, urban lifestyle.
Very convenient for daily use. It is made of 3 mm thick material with flat base and rounded edges. Beside being gas stove and induction friendly this stainless steel fry pan is dishwasher safe too.
Trust this stainless steel beauty to be the best frying pan you ever had! Plus, this triply stainless steel fry pan can resist damages and scratches.
No worries about rusting or using metal spatulas or ladles! 3 times better than normal stainless steel skillets and those which have tri-ply only at the base.
Thoughtfully crafted for safety, durability and good control - easy to flip and toss. The Indus Valley's triply frying pan is aesthetically designed only for your comfort and safety.
Without doubt you will call this as the best tri ply stainless steel frying pan in India. Don't forget to check out The Indus Valley's amazing stainless steel cookware set as well!
🚀500+ people bought it last month
Sale price
Offer Price: Rs. 1,699
Regular price
MRP: Rs. 2,830
Unit price
per
Claim Your Offer
+ Show More Offers
Free COD Available
Free Shipping Above ₹1198
Secured Payments
Easy 7-day Return
Why you'll love it
Use & Care for Best Performance
Promises We Live By
1. PROMISE OF HEALTH
Because your health is our No. 1 priority, we use nothing but 100% pure, superior-grade materials, free from PFOA, lead, and cadmium in our kitchenware.
2. PROMISE OF QUALITY
We fuss on the details. Be it performance or aesthetics, our kitchenware embodies quality that is built to last.
3. PROMISE OF EASE
All products are thoughtfully
designed to make everyday cooking easier, faster and more enjoyable.
India's No.1 Healthy Cookware Brand
100% Healthy Cookware
No Chemical Coating
100% Toxin Free
ISO 9001 Certified
Safest For Children
Long Lasting
Loved By Chefs
Recommended By Doctors
Trusted By 5Lac+
Frequently Asked Questions
100% FOOD SAFE: No harmful chemical coatings. 100% toxin-free.
PRESERVES FOOD NUTRIENTS: Even heat distribution enables fast cooking which helps in preserving 85% of nutrients. Healthier dishes, for sure!
THREE-PLY CONSTRUCTION: 3 layers of metals from base to rim. Scratch and rust resistant surface. No dents or bulging.
EFFORTLESS COOKING GUARANTEED: Aesthetically designed for enhanced safety and convenience. Perfect for daily use and urban lifestyle.
EASY CLEANING: Prevents burning of food up to 90%. Prevents food from sticking to the surface. So, no cleaning hassles.
MONEY SAVING INVESTMENT: Quick cooking. Saves fuel up to ₹1200 per year. Lasts for decades.
MULTI-PURPOSE: Effortlessly cook your favourite dishes. Suitable for gas and induction stove and OTG.
SUPERIOR PERFORMANCE: Best in even heating and heat retention. Consumes less oil.

Add water to your cookware with a little bit of soap solution to it.
Use a soft scrub/ sponge to scrub away everything, and rinse thoroughly. If the food gets stuck, heat some water in the pan on low heat and scrape the stuck food with a spatula, and rinse it thoroughly. (Note: Metal scrubber is not recommended).
After washing, do not forget to towel dry it.

Triply cookware is versatile and helps you cook many dishes like gravy, tea/coffee, tiffin, sauce, briyani, sweets and more.

Is non-stick bad for me?
Non-stick releases toxic fluorides in high temperatures which are very harmful.
Is it safe to cook in tri-ply stainless steel utensils?
Yes, it is safe to cook in tri-ply stainless steel cookware. Plus, it is a healthier alternative to non-stick cookware.
How often can I use tri-ply stainless steel cookware?
Regularly. It is made for daily use.
Will food stick to the utensils?
Tri-ply stainless steel cookware has a naturally non-stick surface and so, the chance of food sticking to utensils is very low.
Will tri-ply stainless steel cookware rust?
No. The Indus Valley's Tri-ply Stainless Steel is made of high quality and durable material.
Is tri-ply stainless steel cookware induction safe?
Yes, tri-ply stainless steel cookware is induction safe.

Just spray, wait and wipe clean the stainless steel cleaner with ease! With The Indus Valley Stainless Steel Cleaner, you can remove oil spots, sticky grease and difficult stains from any surface. This powerful cleaner's grease-fighting ability aids in the clean-up of even the toughest messes.
MAKE THE RIGHT CHOICE
The Indus Valley Tri-ply Stainless Steel

Local Stainless Steel

No Chemical Coating

Made of 18/10 food grade stainless steel.

Preserves 85% of Nutrients

Even heating & fast cooking preserves food nutrients.

Triple Layer Construction

Entirely made from 3 layers of metals, base to rim.

Superior Performance

Supports even heat distribution & heat retention. It is suitable for different cooking styles & heat sources.

Cookware for Lifetime

Ideal for rough & tough use. Lasts for decades.
I am happy
recently bouht indus valley triply fry pan. very happy with purchase. very durable. heat up quickly.
Frying pan
Worth the money. Amazing quality. Life time investment. Feeling happy and satisfied. Thank you Indus valley.
Works well ..
Quality is very good Bd very useful in kitchen